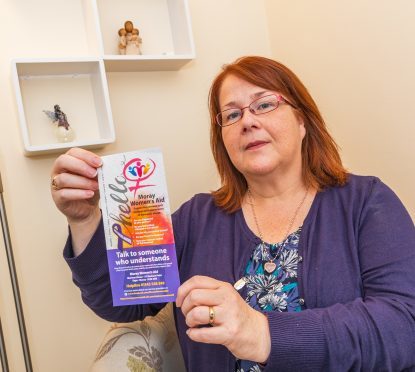 A Moray woman, who was subjected to years of domestic abuse, has spoken of her ordeal in the hope it will encourage others to break free from violent relationships.
Arlene Johnston, from Elgin, was physically, verbally and emotionally abused by her husband, dating back to 2009.
The mother, who intends to revert to her maiden name Reid, sought refuge with Moray Women's Aid in December last year after finding the courage to leave the family home.
Now, as part of domestic abuse awareness month, she has broken her silence about what she endured.
She said: "I think you know for a long time that what's going on isn't normal behaviour and you get to the point where you are broken, mentally.
"It's a big thing to get over the thought of living without your abuser. You can't imagine the next day without them being in the room.
"After each incident, you try and convince yourself you've been in the wrong.
"After I went to the police and women's aid I was never once not believed. That was the biggest thing for me."
Last night, campaigners revealed Mrs Johnston's plight was far too common.
Melanie Wood, support team leader at Moray Women's Aid, said: "Sadly, it's a typical story.
"We're not here to judge. No matter how many times a woman has tried to leave her partner, we try and support them."
Mrs Johnston revealed that, despite the abuse, which included being grabbed by the neck while having a knee pressed in her back, she still held out hope it would end.
She said: "I hoped he would change – just by watching other couples to see it was not normal behaviour."
Simon Johnston was found guilty of assaulting his estranged wife, Mrs Johnston, following a trial at Elgin Sheriff Court last month.
The 47-year-old, of Bisset Beat in Elgin, was sentenced to do 140 hours of unpaid work and to pay his former partner £350 compensation after also being convicted of shouting and swearing at her by causing a breach of the peace and breaching his bail conditions by contacting her.
Moray Women's Aid's helpline is 01343 548549. It is open 24 hours a day from Monday to Friday and from 4pm on Saturday and Sunday until 8am the following morning.