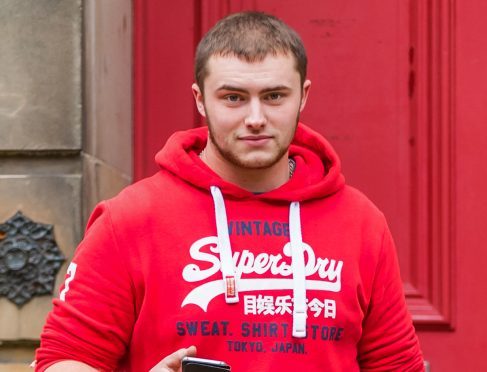 A Moray motorist who was caught driving at nearly double the speed limit has been spared prison.
John Adamson, from New Elgin, was clocked by police driving at 117mph in his Audi S3 on the B9040 Lossiemouth to Hopeman road.
The route has become notorious for speeding drivers in recent years following numerous complaints from locals.
Last night, it was hoped catching the speedster would act as a deterrent for others who follow his example.
Police carried out an undercover operation in an unmarked car on June 24 when they spotted Adamson rush past them.
Yesterday the 22-year-old appeared in the dock at Elgin Sheriff Court after pleading guilty to a single charge of dangerous driving.
The welder was warned the journey could have had "serious or fatal" consequences if he had lost control of the car.
Fiscal Alex Swain explained officers had been using a laser to check the speed of cars on the route.
She said: "The road is renowned for people exceeding speed limits there and there have been serious road traffic collisions in the area.
"Police saw the Audi S3 being driven by the accused, well in excess of the speed limit. The speed recorded was 117mph, the limit is 60mph.
"The police immediately followed with blue lights and had to accelerate hard to catch up with him."
Officers eventually caught up with Adamson, who had two passengers, when he was forced to slow down behind a line of traffic entering Hopeman.
Residents in the village have resorted to using hairdriers as mock speed cameras in the past in an attempt to get motorists to reduce their speed.
Defence solicitor Stephen Carty said his client was "surprised" when officers told him the speed he was driving at.
Last night, Moray Council convener James Allan, who represents Heldon and Laich, hoped awareness of police doing speed checks on the road would slow drivers down.
He said: "It's something I hear all the time at community councils, not just on that road but other ones in the area too. The driving some people are doing is stupid.
"Some people have been joking they'll need to get the hairdriers and yellow jackets out after seeing it done in Hopeman.
"It's good to see that someone speeding has been caught. Hopefully it will act as a warning to others."
Mr Carty said: "Mr Adamson accepts the consequences at that speed could have been disastrous. He can only apologise for it."
Sheriff Chris Dickson said: "This is an appalling speed to be doing on a B-class road. It could easily have had serious, if not fatal, consequences."
Adamson, of Hardhillock Avenue, was sentenced to 180 hours of unpaid work and banned from driving for 16 months after admitting driving dangerously at a speed of 117mph where there are blind spots and by driving into the opposing carriageway to overtake cars.