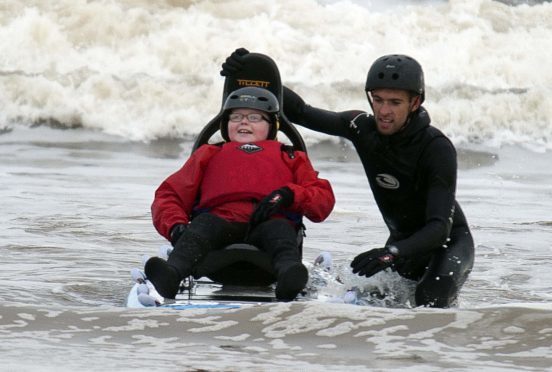 A boy who had to learn how to walk again after suffering a life-threatening brain tumour has taken to the waves on a surf board.
Daniel Strong, who lives in Elgin, braved the bracing Moray Firth breeze and chilly water to tame "white horses" rolling into the coast yesterday.
Now the 12-year-old intends to become a regular surfer by returning to the Lossiemouth coast next year after building up his strength in a swimming pool during the winter.
It was the first time the sports enthusiast has sampled gliding over the currents  – taking advantage of an adapted surf board, which is the first of its kind in Scotland.
After his return to dry land yesterday, he described the thrill of riding the waves as "brilliant".
Daniel said: "Going under was the best bit. I've been really excited about it. I can't wait to do it again."
While undergoing surgery to remove the tumour seven years ago, the Elgin High School pupil developed stroke-like symptoms.
The youngster was left permanently blind in his right eye and had to undergo physiotherapy to learn to walk again after his entire left side was left weak.
However, yesterday, Daniel cast off the shackles of his disabilities while high-fiving surfing instructors from charity Friendly Access, which runs the Surfable programme.
The eyes of the keen sportsman, who also takes part in the ball sport boccia and horse riding, lit up at the prospect of becoming engulfed in the waves when he looked out to sea.
The youngster put his arms out wide and called for bigger waves as the instructors manoeuvred the board in the water.
Mother Caroline O'Connor, who watched from the beach, said: "He loves sport but it's really hard to find activities that are accessible to him – when we saw this surfing board we jumped at the chance.
"He's been excited about it for days. He's been talking about it all the time. I warned him it will be cold but he hasn't cared.
"It's been amazing. It was his first time, it was always one of those things we always thought he was never going to be able to do."
Glyn Morris, chief executive of Friendly Access, said: "There should be no barriers for people with disabilities. We want to make the environment as accessible as possible, with a bit of adventure too.
"Surfing is just an example, it's really down to personal choice."