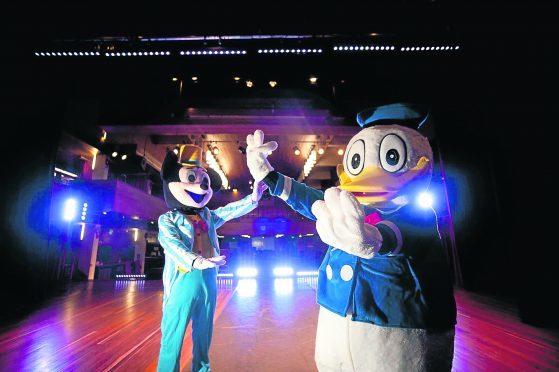 A Moray theatre group is determined to show off the capabilities of an under-threat venue as members join the fight for its future.
Lossie Entertainment Academy is staging A Disney Christmas Wish at Elgin Town Hall over the weekend, showcasing some of the most famous songs and characters from popular children's movies.
The show has become a yearly staple for many Moray families, and there will be four instalments this year rather than the usual three.
But preparations for the light-hearted spectacular were dealt a blow when performers learnt that its venue has been earmarked for closure as part of a Moray Council cuts drive.
The local authority aims to save £6.7million in 2018, and the 78-year-old Elgin building is among a slew of community halls due to be closed unless local groups express an interest in taking them over by June.
Earlier this week, the Lantern of the North music group urged  similar organisations to join their campaign to secure the site for future generations.
Lossie Entertainment Academy co-owner, Diane Aspinall, yesterday backed the drive as she pledged that the upcoming show would prove its value to the area.
She said: "We want to prove that people in Moray don't have to go to Inverness or Aberdeen to see quality shows.
"To lose a facility like Elgin Town Hall would be a massive kick in the teeth to all the locals.
"We are keen to be part of Lantern of the North's drive to find a community-led solution to keep the hall running."
Lossie Entertainment Academy has been a longstanding patron of the venue, and staged the only local version of its Robert Burns The Musical show there last summer.
The festive production will feature a mix of song and dance performed by students from the Lossiemouth stage school.
Performances of the Disney showcase will take place on Friday, Saturday and Sunday with a matinee on Saturday.
Lantern of the North has arranged a meeting about the venue to take place at the Inkwell in Elgin on Tuesday, January 16.
Group director, Barry Jarvis, said: "It is clear that if we don't step up and offer an alternative the council will simply shut the door and leave the building to rot."