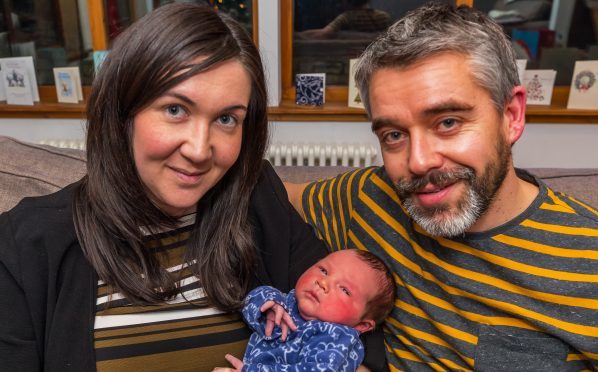 The best possible Christmas present arrived early yesterday morning at Dr Gray's Hospital in Elgin as one family welcomed a new baby boy into the world.
Hopeman couple Elaine and Stewart Sutherland had been told to expect their little boy to be born on New Year's Day.
But they could hardly believe it when Charlie arrived at just one minute after one o'clock on the morning of Christmas Day.
He was the first child in Grampian to enter the world on the 25th and came in weighing nine pounds and eight ounces.
Mrs Sutherland, 32, described it as a "very special delivery" and was pleased that they had managed to get home in time to spend some of Christmas Day with the rest of their family.
Yesterday from home she said: "His big brother is absolutely delighted to meet him and is looking forward to Santa coming on Christmas Day night as a special treat."
The couple had arrived at Dr Gray's at around 10pm on Christmas Eve, and Charlie James Sutherland quickly came along to be the second child and little brother to Louis, three.
The family had already planned to spend Christmas Day at a large family gathering at the village's memorial hall and Mrs Sutherland said they were looking forward to introducing the new arrival to the rest of the clan.
"He's going to be meeting his granny and great-granny," said Mrs Sutherland. "I think he's the 12th great-grandchild for this side of the family.
"We had joked with folk that he'd better not arrive on Christmas Day, but I'm just glad he's here safe and sound – he's going to make Christmas doubly special from now on."