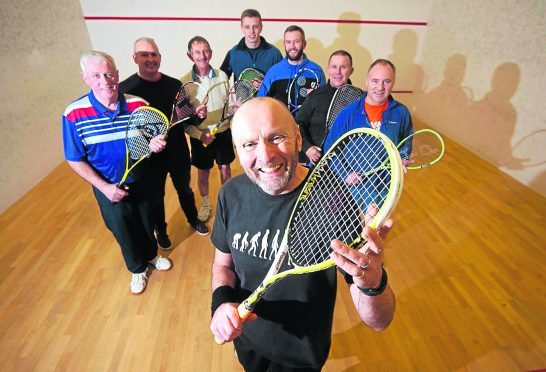 Members of a struggling Moray sports centre have funded repairs in an attempt to bring in more cash.
The squash courts at Moray Leisure Centre in Elgin have been closed for more than a year due to worsening damage, with management unable to approve repairs due to an ongoing cash shortage.
Frustrated by delays, members of the local squash club opted to finance the repairs themselves to get the facility open again.
The club estimates that reopening the courts at the leisure centre – which needed a cash advance last month to stay open – could provide an annual boost of up to £15,000.
John Ramsbottom, vice-chairman of Elgin Squash Club, said: "The board didn't have the funds to repair it themselves. It's lost income to them so trying to be positive we suggested to them a few months ago that we could do it.
"There's a few of us that are pretty hands-on, so it didn't take us that long to do to get it up and running again.
"There's no other courts in Elgin so I reckon it's going to be pretty busy now. It's not going to be a massive amount of money to the leisure centre but it will help."
The courts were sealed off on health and safety grounds due to plaster on the back wall of the court cracking and breaking off, creating holes in the surface.
The repairs, which cost about £2,000, were funded by the squash club's own cash reserves and fundraising events organised by the 45 members.
Fears have been raised in recent months that escalating running costs at the centre, which is run by Moray Leisure Ltd and receives £698,000 per year from the council, could force it to close.
Consultants are expected to arrive this month in an attempt to halt declining income and footfall.
Acting general manager Lesley McBride said management were "trying their hardest" to attract customers, who were coming back now the squash courts have reopened.
She said: "Before we had the issue with the back wall you couldn't get a game on the squash courts because they were always fully booked.
"We've already had a lot of bookings from people who are excited to see them back."
Management board director Martin Gray added: "As you can imagine, the repairs required an investment we were unable to manage on our own so we were happy to work with the club.
"Contrary to public belief, we're not a huge profit-making organisation. We're here for the enrichment of Moray.
"Squash will not be a huge earner for us by any means, but every little helps."
Members of the sports club now hope that the refurbished courts will encourage more to take up the game.
Mr Ramsbottom added: "The club was formed about two years ago so we could approach the leisure centre. It's always been very popular though.
"Now they're open again we want to start coaching sessions, especially for children, to help get more people involved."