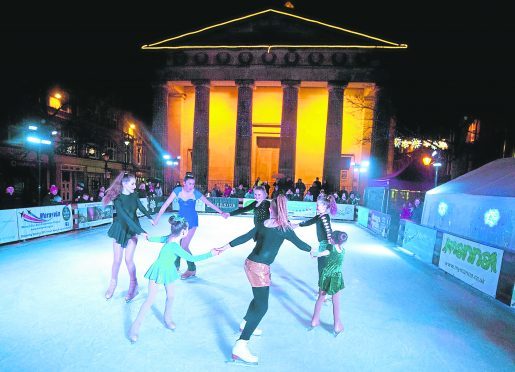 A winter attraction in Moray will come to a close today after a bumper season.
Young performers brought the curtain down on the Ice Festival last night as they showcased the range of their talents on the rink at Elgin's Plainstones.
Skaters spun and pirouetted on the frozen surface while performing dance moves to music in front of a packed crowd.
Yesterday, organisers of the Ice Festival revealed attendances at the attraction had improved from more than 5,000 who attended last year's inaugural event.
And demand to skate on the ice in Elgin's historic heart has proved so high that organisers added an extra day today to ensure youngsters do not miss out.
Director Jon Behari said: "It's been a lot busier this year. The weather has been in our favour. It's been relatively calm with only a few little snow flurries.
"It's definitely becoming a fixture in the town centre. We've had a lot of people down who have never skated before – ranging from two years old right up to 86.
"Businesses have reported they've seen some increased trade off the back of it too, which is good. It's definitely helped draw people in, especially just before Christmas."
Mr Behari confirmed that plans were already being put in motion to ensure the outdoor ice rink would return again at the end of the year.
The organiser joked that forecasted temperatures, which are expected to plummet below freezing at the weekend, will make the ice difficult to shift now it is in place.
Final attendance figures are expected to be confirmed once the final skaters leave the rink today.
Elgin councillor John Divers, who is a director of the town's business improvement district, believes the attraction has been a success since it launched.
He said: "Whenever I've walked past it this year it has always been pretty busy. When it was launched we hoped it would brink extra business and if that's the case then that's good – we have to work together.
"It's good to see it was extended towards the end of the school holidays. Children are often looking for something to do at this time and this is certainly a healthy option."