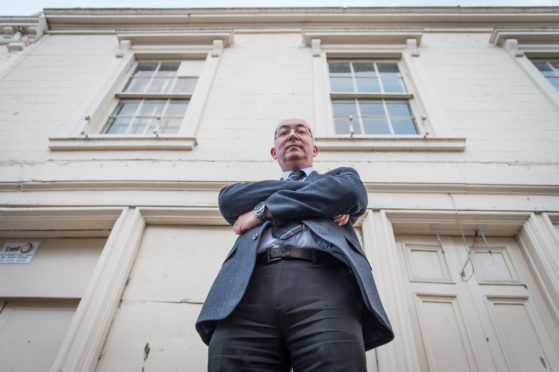 The demolition of a Moray eyesore to redevelop it as flats to attract workers to the region has been approved only months after the Scottish Government threw them out.
Developers Action Elgin wanted to knock down the grade B and C-listed Victorian buildings at 184-186 High Street, which have been empty for more than a decade.
The project appeared to be killed off when ministers sided with Historic Environment Scotland (HES) to overturn Moray Council's approval.
However, now there is hope the development could yet be revived after councillors renewed their support for the project by approving a separate application for the same demolition.
The decision comes in the wake of decisions by the Scottish Government to overturn developments that had been thrown out by the council at Forsyth Street in Hopeman and Stonecross Hill in Elgin.
Last night, Marc Macrae, chairman of the council's planning committee, stressed it was important to "send a message" of faith in the High Street plans.
He said: "If we had refused this then it would have probably have deterred other people from looking at some of our other historic buildings – it would have been the wrong message to send.
"At the moment we need to have these flats in the town centre to provide space for workers, either at Dr Gray's or RAF Lossiemouth, who need accommodation for short periods of time."
Yesterday, Sandy Adam, director of Action Elgin, explained discussions would now reopen with the Scottish Government and HES to find a solution.
He said: "Although we're still disappointed with the original call, this decision takes us a step closer to bringing life back to a forgotten building, while generating business opportunities to an empty section of the High Street.
"We have the opportunity to help regenerate what should be the beating heart of the town with new homes and shops."
The original proposals for the former tobacconist and tackle shop included an assurance from developers to number each brick of the street frontage and using the original stonework to rebuild it with 15 serviced flats to the rear.
During discussions at yesterday's meeting of the council's planning committee, Heldon and Laich member described the structure as a "carbuncle" while Forres councillor Aaron McLean said its only use was as a "home to pigeons".
But Forres councillor Clare Feaver opposed the move, fearing irreparable damage to Elgin's heritage.
She said: "We should be learning from mistakes that have been made in the past, not repeating them."