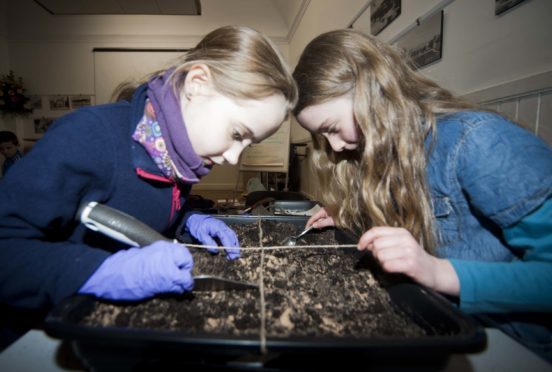 Youngsters in Moray have become investigators after learning how to uncover the secrets of the region's past.
Elgin Museum ran workshops for children eager to learn more about the work of an archaeologist.
The enthusiasts were yesterday encouraged to dust off earth and rubble from undiscovered artefacts to peel away the layers of history that lay on top of them.
Broken pieces of pottery, fossils and historic coins were buried in "mini trenches" created by museum volunteers.
The children were then encouraged to record what they found before putting together clues to determine what they are and where they came from.
Violet Irvine, 8, and Martha Kenyon-Smith, 9, took it in turns to excavate soil using a trowel before swapping it for a fine brush to dust the earth off their findings.
Artefacts dating back thousands of years unearthed through archaeological digs, including carved Pictish stones found near Lossiemouth and hoard of Roman coins discovered near Birnie, are displayed in the attraction's galleries.
Jen Kelshaw, the museum's learning officer, said she was delighted to help the children learn how to dig up their own historic find.
She said: "There's lots in Moray to discover, as the museum shows, so the best part about this is that the youngsters can now go and do it themselves.
"We've tried to get them to look at things as an archaeologist would if they're working on a small-scale excavation, from studying the layers of earth to understand the layers of history to writing down what they find so it can be looked at later.
"There's not really any rule about what is interesting. It could be a fossil, pottery or an old toy. It's up to the individual really."
Elgin Museum is running a series of workshops for children during the school holidays.
A class about lucky charms will run on Friday April 13 from 1pm to 3pm.
The workshop on crop marks on Thursday April 5 is fully booked.