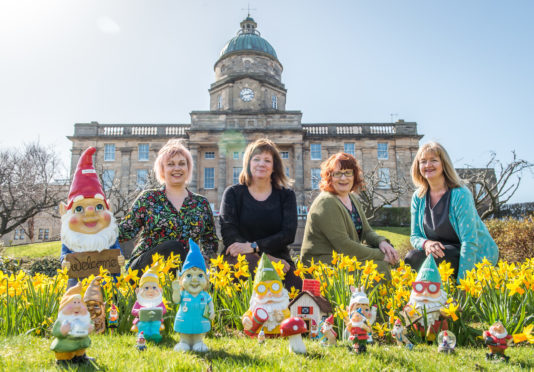 An army of unruly gnomes have been sent on expeditions from a Moray hospital to raise awareness of dementia.
Nurses at Dr Gray's in Elgin have been collecting the ornaments to task them with spreading the word about mental health.
Their mission, entitled Adventure Before Dementia, has now taken the garden dwellers to all corners of the globe – with one currently enjoying a Mediterranean Cruise, one at Disney World and another due to fly to Las Vegas today.
While on their travels the gnomes have been tasked with raising as much money as possible for Alzheimer Scotland.
Photographs of them getting up to mischief in far flung parts of the world have also proved a social media hit – attracting further donations to the cause.
The stardom of the ornaments, which have been donated by local people and businesses, has now hit the point where the mental health nurses now have to keep an itinerary of their movements.
Visitors to the clinic have been invited to take them out on fresh escapades on the condition photographs of their adventure can be shared on the cause's Facebook page.
Nurse practitioner Trish Bury said: "It was inspired from remembering that when gnomes were stolen from people's gardens, they would get posted pictures of what they got up to.
"So now we actually send them out on trips and get people to donate for them. It's been quite incredible to see all the places they have got to.
"It doesn't explicitly have anything to do with dementia, but it has captured the imagination of a lot of people and is helping the charity."
Although Mrs Bury styles herself as the "head gnome minder", she has been assisted in the clinic by Karin Howard, Lorna Young, Kate Cowie and Fiona Burns.
The mischief-making ornaments will continue to be let out of the hospital for the rest of the year before they are auctioned off to raise further funds.
Buckie councillor Sonya Warren brought one of the gnomes, Captain Jack, to this week's full council meeting, where he met the chief executive.
She said: "Dementia is a serious illness and if the gnomes highlight the impact in a lighthearted way that sticks in people's minds then that can only be a good thing."