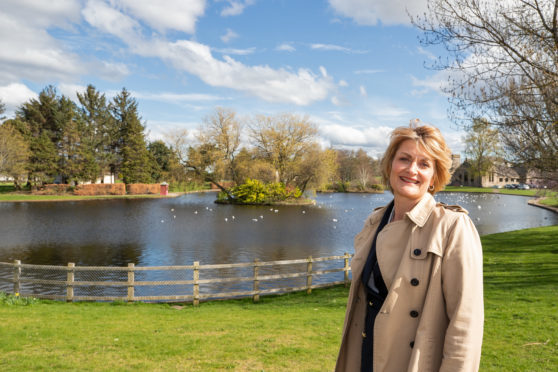 An ambitious vision to develop a multi-million pound "cultural quarter" in Moray's biggest town has been unveiled.
Cooper Park and Lossie Green have been identified as focal points to draw visitors to Elgin before directing them to attractions across the region.
Under the proposals, Grant Lodge could become a showcase for Moray's food, drink and textiles with a focus on a "whisky experience" to offer tastings and signpost distilleries.
Land for a privately funded four-star hotel in Cooper Park has also been identified. It is understood a site near Grant Lodge has been earmarked for the accommodation.
Last night, tourism and business leaders across the region welcomed the blueprint for Elgin, which has been identified as the "flagship project" in the council's bid for £200million in growth deal funding from the Scottish and UK Governments.
A refurbished Elgin Town Hall with a multi-purpose theatre, rehearsal rooms and gallery could also be funded.
Rhona Gunn, Moray Council's economic development director, said: "The top four areas most in need of improvement in Moray, as ranked by 1,200 respondents to a survey, were job creation, education facilities, businesses operating in the area and recreation facilities.
"We firmly believe the Cultural Quarter would deliver against these identified needs."
The revelation comes less than a month after Scottish Secretary David Mundell described Moray's case for growth deal funding as "compelling".
A total of 13 projects will be included in the bid – with a new gas pipeline to allow businesses to expand and a business improvement centre already known to be on the list.
Yesterday Laurie Piper, operations manager for Moray Speyside Tourism, claimed the region was currently being held back from reaching its full potential.
He said: "There is no doubt that visitor numbers are increasing but to maintain this we need world class attractions and facilities. The lack of hotel accommodation results in visitors staying elsewhere and spending their money outside the region.
"The plan for the Cultural Quarter addresses many of the barriers to increase visitors and spend in the area."
Ewen Mackintosh, managing director of Gordon and MacPhail, said: "We must make Moray a destination. We are an international business, Speyside whisky is an international bestseller, we want the same reputation for the place.
"Moray has all the ingredients to do this. The visitor experience must be cohesive from the transport to the attractions to the accommodation."