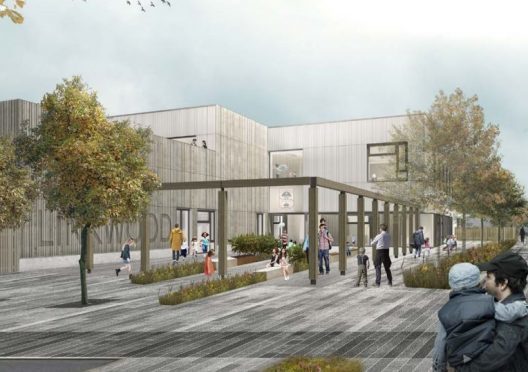 The opening date for a new Moray primary school may have to be pushed back yet again amid projects it is nearly £1million over budget.
The forecast for Linkwood Primary School in Elgin comes a month after the expected price for the replacement Lossiemouth High School soared to £10million more than the original estimate.
Last night, opposition councillors stressed that "lessons must be learned" from the builds, with two more primary schools due to be built in Elgin in the coming years.
Moray Council faces running out of cash next year, with about £12million worth of savings needing to be made to balance the books.
Linkwood Primary was initially expected to be welcoming its first pupils to its permanent home in the south of the town after this year's summer holidays – before the opening was pushed back to October next year.
However, now council officers are preparing contingency plans for if it is not finished for the beginning of the 2020 school year.
Pupils at Linkwood Primary School are currently being taught in temporary education at East End Primary School.
Warnings have been made that expanding that for more students due to delays would further increase costs "significantly".
The project has been pushed back due to delays in signing legal documents related to the ownership of the land.
Last night Councillor Sonya Warren, education spokeswoman for Moray Council's SNP group, stressed that "lessons need to be learned" ahead of future school builds.
She said: "I think it's imperative that we look at what we are doing when we are building new schools.
"There's going to be another primary school on that development and we're going to have a similar project at Findrassie at the other side of the town.
"We need to make sure lessons are learned from what we are going through now so they are not impacted. We have a growing population in Elgin so keeping an eye on capacity is very important. We don't want pupils squashed in small schools."
Tomorrow, Moray Council's children and young people's committee will be given an update on the Linkwood Primary School project.
Latest estimates place the building at £830,000 over budget with "significant alterations" already having been made to the design to reduce the cost.
The expected £12.33million total also does not take into account the expense of buying IT equipment for the school and projected increases due to inflation.
Senior management at the council have previously stressed they are ready to "push the button" to begin construction.
But hold-ups due to land ownership issues have left them waiting for Springfield Properties, who are developing the wider site, to have the plot ready for them.
In a report, educational resources manager Nick Goodchild, said it was currently "prudent" to plan for an August start date.
He said: "Until such time as the planning agreement is signed and registered and the Elgin South development commences the potential for further delays remains.
"Officers are developing contingency plans should a delay push the completion date beyond the start of the 2020 academic year.
"Should modular accommodation be required this will increase costs significantly. It should also be noted that this delay is increasing pressure on the project budget as a consequence of construction inflation."