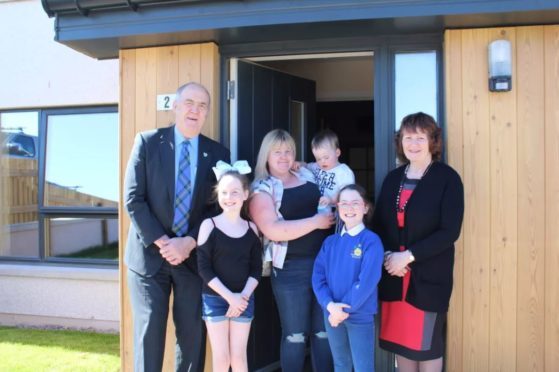 A development of new council homes in Moray's biggest town has been completed amid projections the region's population will soar.
Families have now moved into the latest block of 16 properties at Linkwood in the south of Elgin – which includes one-bedroom flats and three and four-bedroom houses.
Construction began in March last year and finished about a month ago to allow the first residents to move in.
Warning homes are in short supply as Moray sales continue to increase
Latest projections estimate that Moray's population is due to jump by nearly 8% before the end of 2033.
Another 15 properties will be completed for the Linkwood development as part of wider plans to keep pace with demand.
Lorna Cresswell, chairwoman of the council's communities committee, said: "We're also going to be delivering new properties at Strathcona Road and Grantown Road in Forres, as well as phase two of Linkwood and at the driving range in Elgin.
"These developments, which are all expected to be completed by the end of 2018, will provide 68 more homes for our tenants."
Moray Council currently has about 4,000 people on its waiting list for homes across the region.
Council leader George Alexander said: "Our latest housing need and demand assessment – which has been praised as 'robust and credible' by the Scottish Government – shows that numbers of households in Moray are projected to increase by 7.8% by 2033.
"That means we must ensure that we're continuing to provide as many high-quality, modern and energy-efficient homes for our residents as we can afford."