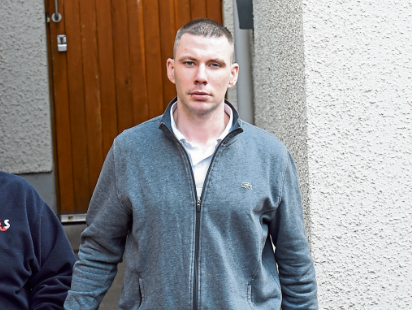 A Moray motorist who crashed a car he had taken for a test drive while high on drugs has been jailed.
David Arthur, from New Elgin, was left with life-threatening injuries after the Peugeot 206 careered off the road on the B9103 Sheriffston to Orton road at Altonside.
Yesterday, the 31-year-old admitted he was driving while under the influence of drink or drugs on June 12 last year.
Arthur suffered a bleed on his brain and a fractured neck in the crash. Meanwhile, one passenger suffered four broken bones in their neck, a punctured lung and six broken ribs.
The owner of the car broke her collarbone and got a bruised lung. The third passenger only sustained minor injuries.
Yesterday at Elgin Sheriff Court, fiscal Alex Swain said the owner of the car and two men decided to pick up Arthur from his home.
While on the road, the accused decided to ask for a test drive because he was considering buying the vehicle.
However, police were alerted shortly after 9pm that there had been an accident.
Miss Swain said: "The only reason given for the crash was that there was a comment that the car was getting close to the edge of the road.
"The accused then moved the steering wheel too fast to the right and the car then started to shake in the middle of the road. The car then slammed on the brakes and went out of control."
Arthur initially tried to leave the scene on foot but was traced by police about 100 yards away in a "foetal position".
The driver was initially taken to Dr Gray's before being transferred to Aberdeen due to the seriousness of his injuries.
X-rays revealed he was carrying drugs internally, which were inside a Kinder Egg container. The items were later identified as 50 tablets of diazepam and diclazepam. Arthur admitted he had taken Suboxone pain killers before the crash.
Defence solicitor Stephen Carty explained the crash had taught his client a "valuable lesson".
He said: "At the time he didn't feel that he was under the influence but he can see now that he was. Clearly he should not have been driving."
Arthur, of Anderson Drive, was jailed for 162 days and banned from driving for 43 months after admitting driving while unfit through drink or drugs, driving while uninsured and two charges of possessing drugs.