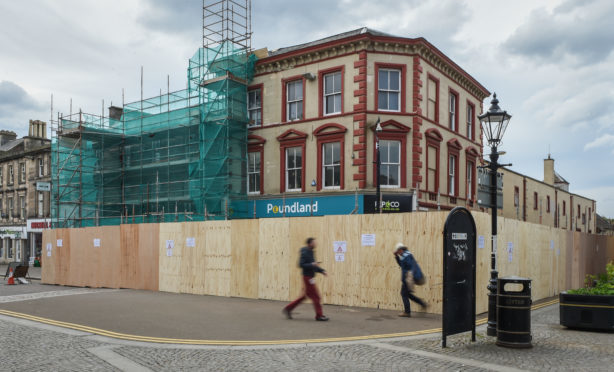 A busy Elgin town centre street has been closed for at least a month amid concerns stonework could plummet from the roof of a historic building.
Poundland on High Street has been sealed off, with a safety perimeter set up around the former 19th century bank.
Moray Council served an enforcement notice on the B-listed structure this week, and yesterday an emergency road closure was put in place on the adjoining North Street.
The disruption caused big backlogs of traffic to form on Batchen Street – at the same time Hay Street remains shut while the roundabout is converted for traffic lights.
Last night, Elgin's business improvement district stressed the town centre was still open for trading but admitted the emergency works could deter shoppers.
Concerns initially emerged about dangerous chimneys on the roof of the Poundland building in December last year.
However, further inspections revealed loose stonework has allowed water to pour inside – leading to fears about the safety of the entire building. Surveys are now being done to determine the extent of the internal damage.
Last night, Elgin City South councillor John Divers stressed safety must be the priority.
He said: "It's the right thing to do. If nothing is done then we could have been looking at the situation where something could fall off, which would obviously have serious repercussions for people possibly walking below.
"The situation is that serious with that particular building that this work has had to take place. It's unfortunate for everyone else that uses the town centre but this needs to be done.
"We've had the first day of the road closure and it caused a bit of disruption, which may cause people to stay away. Hopefully it settles down though as people get used to it."
The building, which is at 161 to 163 High Street, originally opened as the A and W Reid bank in 1856 but is most popularly remembered as the former Woolworths store.
It is understood that access to the top floor and attic of the building has been sealed off for several years.
Staff from Poundland, which leases the building, were seen removing stock from the premises yesterday.
A spokeswoman for the store said: "We've had to temporarily close to allow unexpected upgrade work to take place on the building – it simply wouldn't have been safe to stay open.
"Contractors are working as quickly as they can to get the work done. We don't know when we'll be able to re-open, but we'll keep people in touch as we find out more.
"We're obviously really sorry for the inconvenience – but safety comes first."
A Moray Council spokeswoman added: "Due to concerns of the deteriorating stonework uncovered on the western gable of 161–163 High Street, we have served a dangerous building notice on the owner of the building.
"Further surveys will determine the extent of the deterioration, any potential risk to public safety, and required repairs."
Diversions to avoid North Street have been set up until the building is deemed safe. Cars and vans should use Batchen Street, South Street and Greyfriars Road to access Alexandra Road.
HGVs making deliveries to the town centre should use the Plainstones and Lossie Wynd.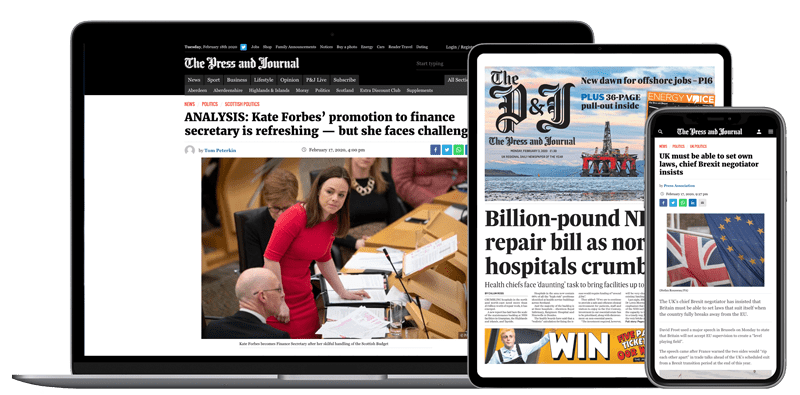 Help support quality local journalism … become a digital subscriber to The Press and Journal
For as little as £5.99 a month you can access all of our content, including Premium articles.
Subscribe