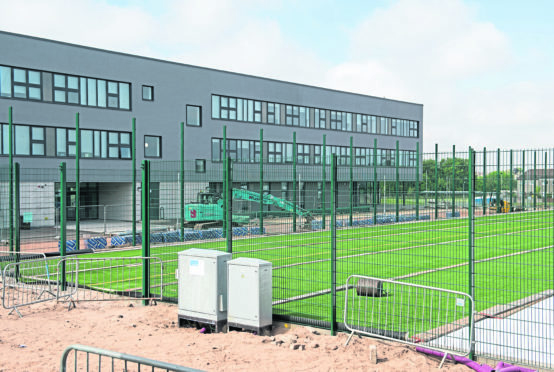 A new all-weather pitch and athletics track will be unveiled in the grounds of Elgin High School this summer.
The previous school building was demolished in 2017 to make way for a £28.8million replacement structure.
The new facilities have started construction this week, and will comprise full-size football grounds, floodlighting and the capability to support a range of sporting activities.
Elgin city south councillor John Divers has fought for the school's upgrade from 2001 and welcomed the implementation of the new pitch.
He said: "This is tremendous progress for the school. Before it happened, the grounds were not in the best condition.
"Now the 3G pitch can be used in all weathers and will accommodate sports such as rugby and hockey, benefitting sports teams from across the community as well as just the school."
A Moray council spokeswoman said: "Installation of the new pitch at Elgin High School will be completed in the coming weeks.
"We're delighted to provide the first 3G football pitch available to school pupils – and the local community – in Elgin."
The new pitch is made from 3G, or 'third generation', materials which can be played on as a substitute or alternative to grass.
A new athletics track will also be constructed over the summer to increase sporting opportunities for pupils and the wider community.
Elgin High school head teacher, Hugh McCulloch, said: "The new 3G all-weather surface will add another fantastic sporting facility to the Elgin High School campus.
"This resource will further enhance the curricular and recreational opportunities of the school community."