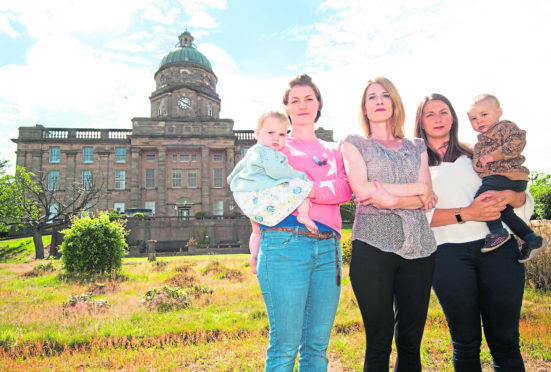 Campaigners fighting to preserve maternity services in Moray want the NHS to be "held to account" while claiming that "years of inaction" have led to the current crisis.
Members of the Keep Mum (maternity unit for Moray) group have met the country's chief medical officer and chief midwifery advisor to try and avert the need for mothers being transported to Aberdeen or Inverness to give birth.
However, following the talks, the top officials insisted there was nothing they could do to reverse the decision – saying it was the "right thing to do" during the current staffing shortages.
Management from NHS Grampian are due to visit Elgin today to answer questions from concerned members of the public.
But before the meeting, campaigners have insisted they have "no confidence" in the health authority.
More than 11,300 people have now signed a petition urging the Scottish Government and NHS to reconsider the downgrade.
A Keep Mum spokeswoman said: "NHS Grampian should have acted years ago to plan ahead so that this crisis situation was avoided.
"It is completely unacceptable to us that NHS Grampian is not held to account for their failure to show a duty of care to the women and babies of Moray.
"The chief medical officer and chief midwifery officer have stated that they will put pressure on the NHS to deliver the service that they have promised in a year's time. However, this is not enough.
"Action must be taken now to save the specialist maternity unit. Steps must be taken to get staff in place over a matter of weeks. This is no way to run a 21st century health service."
NHS Grampian will downgrade the maternity service at Dr Gray's from Wednesday next week – meaning all medium or high-risk pregnancies will be transferred to Aberdeen or Inverness.
The health authority insists the changes, which are as a result of a shortage of junior doctors, are temporary but have warned the disruption could last a year while long-term plans are drawn up.
Sue Swift, divisional manager for NHS Grampian's women and children's service, has given a "categorical assurance" that maternity services will remain a vital part of Dr Gray's.
She added: "Ideally we would like to be able to offer the current range of services. However, until we can attract enough people with the right skills to enable us to provide safe care for every category of pregnancy that is simply not
possible."
Moray MSP Richard Lochhead said: "No stone should be left unturned to ensure this situation is resolved and the consultant-led unit is restored as soon as possible."
Staff from NHS Grampian will be at Elgin Town Hall today from 10am to 8pm to answer questions about changes to the women and children's services at Dr Gray's.