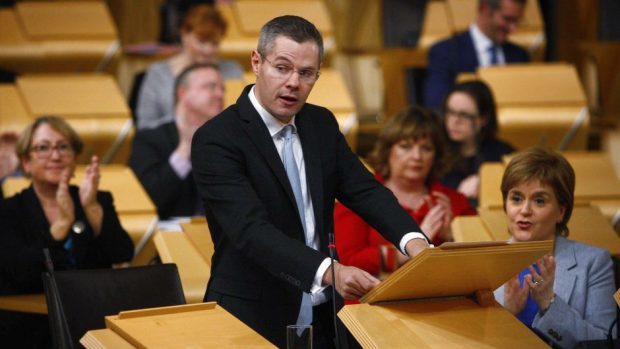 A Scottish Government minister has been pressed to deliver a funding boost for Moray during a visit to the region today.
Finance secretary Derek Mackay is expected to visit Elgin to inspect projects that are underway to deliver new jobs for the region.
Ahead of the trip, however, Moray MP Douglas Ross has warned the SNP politician that he has to deliver more than "warm words" during his time there.
Moray Council is currently the third-worst funded local authority per head of population in Scotland – lagging behind only Aberdeen and Edinburgh in the national charts.
A cross-party group of politicians travelled to Edinburgh in March to press Mr Mackay about the need for extra cash to ease the concerns about the council running out of money.
Yesterday, the Scottish Government stressed the region would expect to see benefits from its own growth deal and those of its neighbours in Aberdeen and Inverness.
But Conservative MP Mr Ross believes progress needs to be made with a new funding formula.
He said: "Moray Council is facing a black hole in its finances as it receives a very poor financial settlement from the Scottish Government.
"We need Mr Mackay to announce increased funding for the area, something councillors in all parties have been calling for. There is no excuse for continued inaction."
Conservative Highlands and Islands MSP Jamie Halcro Johnston added: "It's quite clear what a raw deal Moray receives. Our local health board, as well as the council, are among the worst-funded in Scotland.
"This is despite the fact that both organisations are serving a large and diverse rural area."
Last night, the Scottish Government insisted it continued to treat local government "very fairly" despite its own financial pressures from the UK Government.
A spokeswoman added: "Moray Council will receive almost £170 million in 2018-19, £5.9 million more than the previous year.
"It is also in line for its own growth deal while being well placed to benefit from the Aberdeen City Region and the Inverness City deals.
"The funding formula for councils is agreed and reviewed with Cosla with local authorities able to raise concerns through them."