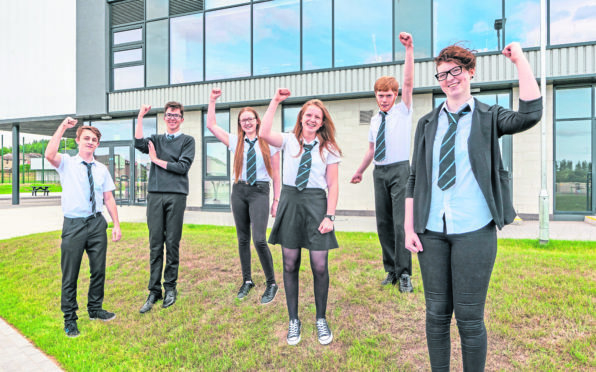 Hundreds of students received their exam results across Moray yesterday with many pupils across the region achieving high marks.
Higher results in schools showed a big increase, with more pupils earning one or more this year than previously.
Overall, 13% of all candidates in S5 gained five highers, while 33% of them achieved at least three.
Individual school results also showed impressive improvement, with Elgin High School in particular highlighted for this, with the pupils from the school achieving their best National 5 scores yet.
In S4, 35% of pupils achieved three or more National 5 results, with 75% of fourth year pupils gaining at least one National 5 award, the best S4 results in recent years.
Eight S4 pupils gained the highest possible qualifications for their year, garnering six As at National 5.
Andrew McIntyre was pleasantly surprised when he got his results through the door.
He said: "I was very nervous before I got the results in, so it was a pleasant surprise when they came through and they were so good but I've got no idea about future plans, maybe something to do with music."
Emily Sutherland was also surprised to see what she had achieved.
She said: "The results took me by surprise, I would like to be a PE teacher after I leave school."
Elgin High School headteacher Hugh McCulloch said: "I'm absolutely delighted because we can attribute this to the hard work of the students, the staff and the support of the parents as well. It really has been a combination of everybody's efforts that's resulted in what the young people have achieved today. I'm immensely proud of what they have achieved so far."
Moray Council's Head of Schools and Curriculum Development, Vivienne Cross, said: "Analysis of our results is ongoing with more detailed work taking place over the course of the next week or so. In line with Scottish Government priorities we will be looking closely at how schools are closing the attainment gap for all young people.
"We will also be working closely with our secondary headteachers in the autumn term to review the attainment for this year and consider this in line with school improvement priorities. Young people are to be congratulated on their achievements."