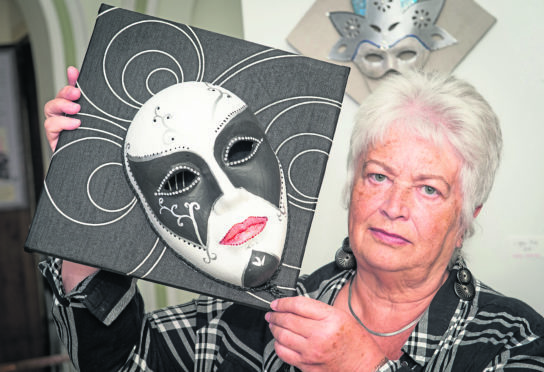 A group of retired teachers from Moray are showcasing their creative flair at an art exhibition.
The five former members of staff have a combined experience of about 150 years in the region's classrooms.
Now creations from the team have gone on display at Elgin Museum in order to help support the tourist attraction.
After retiring from teaching youngsters in the town, the colleagues initially got together for a book group.
However, the artistic talents of the members soon came to the fore. Crafted quilts, scenic watercolours and hand-made bags made by the group have now been hung in the gallery where they will be on display for the next six weeks.
Former New Elgin Primary School teacher Mary Shand has created a range of elaborate headwear for the display.
She said: "I've always been keen on art and while teaching primary school children you do pick up tips along the way.
"We put on the exhibition once and it seemed to go well so we started doing it every two years, this is the third one we've done now."
Mrs Shand has been joined for the exhibition by Anne Robertson, former depute head teacher at New Elgin Primary School, Marny Cruickshanks, former biology teacher at Elgin Academy, Judy Ross, former languages teacher at Elgin High School and Rosemary McGhee, who was depute head teacher at Lossiemouth High School.
A quarter of the proceeds from the event will be donated to the museum in order to cover the costs of the attraction.
Mrs Robertson said: "When I retired I thought I would ask some of my good friends whether they would be interested in a book group to spend time together.
"Along the way it has evolved into an arts and crafts group. We're all good friends who enjoy each other's company and we have a good time doing it."
The Local Quines: Expanding Nicely exhibition is running at Elgin Museum until September 4 during normal opening hours.