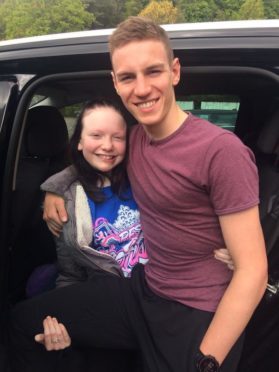 A Moray teenager will undertake a Herculean challenge next month in memory of his sister.
Cameron Main, 18, is planning to run up and down Ben Nevis five times in the space of 24 hours to raise money for Abbie's Sparkle Foundation.
The charity was created by his sister Abbie, who succumbed to sarcoma, a rare form of cancer on Christmas Day last year, aged just 15.
And now, Mr Main is poised to undertake one of the most difficult challenges in his life.
He said: "I am raising money for Abbie's Sparkle Foundation, my sister's charity who wanted to raise money for children like her who suffered from cancer.
"I looked up to her and the way she focused on the positive things about life and not the negatives.
"I wanted to do something crazy and something that hasn't been done before and this was the first thing that came to mind as it's the biggest mountain in Britain and it has an amazing view at the top.
"It will probably be one of the hardest things I will do in my life."
Mr Main is currently in his third year at Stirling University, where he is studying sports science after attending Elgin Academy.
He competes in triathlon events for Great Britain, so is not completely unprepared for trekking up a mountain multiple times.
He said: "I train basically 24 hours a day for triathlon although running up a mountain is a bit different from that.
"However, I ran up and down Ben Nevis on Saturday, and it took me about two hours and wasn't too difficult, so that gave me a confidence boost.
"Everyone says I'm crazy to do it and am underestimating it, but I know it will be pretty brutal to complete it."
The teenager has so far raised over £1000 for this challenge, which will take place on Saturday, October 6 and has set a £10,000 target.
He will start it at 4pm that day, and is hoping to run up and down the mountain five to seven times.
He said: "I'm going to do it a bit slower than two hours because it is an endurance event so I have to be more careful.
"A few of my triathlon friends will be running up with me each time, just to make it safer."
You can donate to Cameron's cause at
https://uk.virginmoneygiving.com/BenNevisChallenge4
.