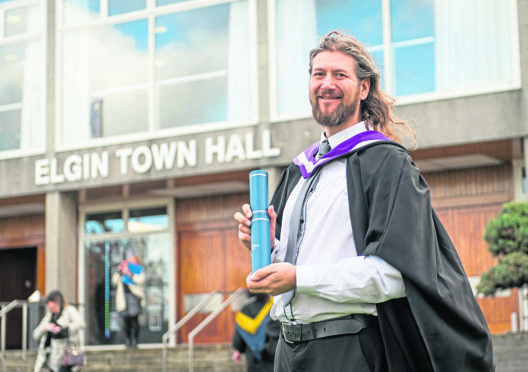 Graduates at Moray College UHI have been urged to use their new qualifications to "inspire" others to reach their potential.
Hundreds of students were dressed to impress for the ceremonies at Elgin Town Hall yesterday.
Proud hugs from family and friends waiting outside the venue awaited them as they left the building after attending classes for the final time.
Guest speaker Peter Mutch, who is an employability youth worker at Elgin Youth Cafe, encouraged them to use their experiences in the classroom to make a difference to the outside world.
He said: "Graduating will mean they have not only changed their own life but someone else's too – whether it's their mum, dad, partners of friends.
"They will also be an inspiration to someone, whether it's helping someone to complete the course, continue in a role or remind a lecturer why they do they job they do.
"Everything they do in life can turn to be an inspiration, not just to themselves but also to other people."
Special awards were handed out during the ceremony to recognise the achievements of those who had overcome adversity or help others to achieve their goals.
Guest speaker Rothes-based boxer Megan Gordon, who won bronze at last year's Youth Commonwealth Games and attended Moray College UHI herself, drew similarities between studying and training for the ring.
She added: "Maintaining or losing weight while others around you are eating and drinking is a bit like college when your mates are going and you know you have an assessment due.
"It takes the same sacrifices and dedication."
Principal David Patterson reflected on a successful year for the institution – which had more full-time students enrolled on university programmes than college programmes for the first time.
He said: "Our mission is to transform lives and to be at the heart of transformation here in Moray and also in the wider Highlands and islands.
"So it's not just about qualifications, it's about helping people gain the confidence to learn the skills, the knowledge and the attitudes that they'll need to be successful in work and life."