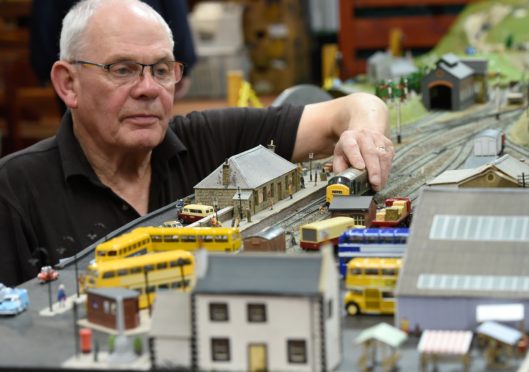 Hi-spec models of historical planes, trains and automobiles have been displayed at the north of Scotland's biggest show.
More than 50 exhibitors travelled from as far as Shetland and Oban to Elgin at the weekend to demonstrate projects that have been years in the making.
Packed crowds marvelled at the model railways, aircraft and other creations – using Meccano and Lego – which were assembled for the annual event, which was being held for the 29th time.
This year's fair, which is organised by Elgin Model Railway Club, was originally cancelled after Moray Council announced the town hall could close due to budget cuts.
However, the booking was reconfirmed once the venue was transferred to community management.
One of the displays to attract most attention was the replica 1950s Belgian Air Force Stampe SV4B biplane.
Mick Henderson, from Deskford near Cullen, spent about five years sculpting wooden and fibre glass parts to manufacture the seven-foot plane from scratch. It was named as the model of the year at the fair.
Mr Henderson said: "I've just finished it this year from traditional materials I've been able to source, the only thing commercial was the tyres.
"It weighs about 14kg and flies quite well. The larger the model aircraft is, the more stable they tend to be in the air."
The event was the first outing for Elgin Model Railway Club's Glebe Street display – a replica of a small branch line in Glasgow – in advance of it being entered in the national competition next year.
A mountain scene from America was created by the Inverness group while a detailed replica of the former Grantown West station on Speyside was also exhibited.
Event coordinator Duncan MacRae explained the fair's popularity was a testimony to the eclectic variety of models on display.
He said: "It's the biggest in the north of Scotland, bigger than Aberdeen. We don't just have model railways, there are other things like Warhammer, planes, boats, Meccano and things like that, which attracts families.
"We've always held it at Elgin Town Hall. We were a bit anxious this year, because our booking was actually cancelled at one point before the new group took it over."