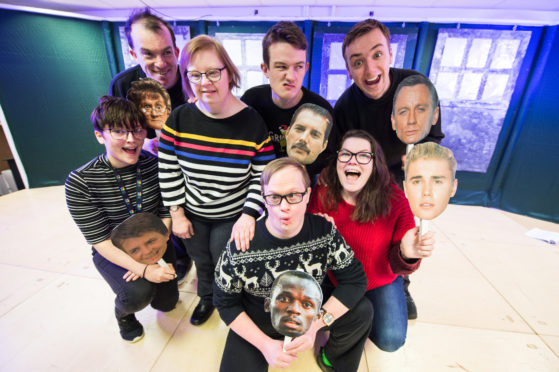 A cast of performers comprised entirely of adults with learning difficulties from Moray are preparing to step into the spotlight for a pantomime.
Elgin-based Out of the Darkness Theatre Company is staging four sold-out showings of Cinderella at its home at The Wards next week.
Actors and actresses have been rehearsing their roles in the timeless fairy-tale since September.
Yesterday, the group was making finishing touches to the fast-paced show which is being produced with students from Moray College UHI assisting with sound, lighting and costumes.
About 20 people with learning disabilities who attend the company's day services will star in the production – including leading lady Michelle Green who will play Cinderella after 13 years attending the group.
Creative director Garry Collins said: "All the cast and helpers have done great. It's a full-length pantomime so it's a lot for them to learn.
"All of our performance group have been given their parts in the show and then we have the students come in to support them with our own staff.
"It's an amazing atmosphere when the place is packed for the shows."
The theatre company has staged pantomimes and other shows through the year since forming in Elgin in 1992.
However, this year will be the first Christmas since the group moved from its previous home on Academy Street to its current base in the council's former flood alleviation scheme depot at The Wards.
Four groups from the charity's various services will be coming together to produce the energetic pantomimes.
Business manager Mark Sellars explained the new facilities had made it easier to prepare for the curtain rising for the performances.
He said: "We're all on the one floor now, which everyone has enjoyed. It's much easier to work together.
"We're here to try and give people with learning disabilities a voice so that they are able to try and combat any exclusion they might have been feeling before."
Cinderella will be performed by Out of the Darkness Theatre Company next week on Thursday, Friday and Saturday at 7pm with a matinee on Saturday at 1pm.