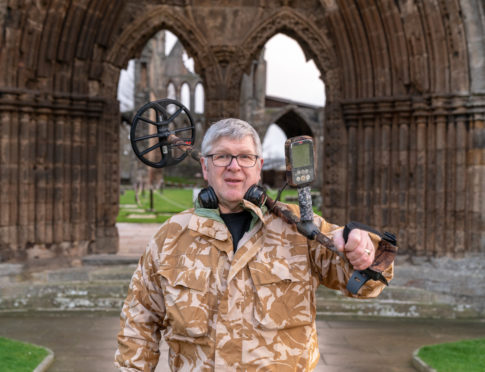 It has been buried in the ground in Moray for the last 500 years.
But now, a gold ruby ring which is believed to have links to royalty, has been unearthed in a north-east field.
Alistair McPherson, from Elgin, made the discovery while scanning the site with a metal detector near the town.
Yesterday, the whisky industry worker recalled the moment he saw the gold band still glistening despite hundreds of years covered in mud.
He said: "I have been researching the site for a while because it's a probable location for a former medieval chapel.
"I had got a few signals already and found a medieval iron key and a couple of other tokens from the same sort of era.
"I moved on and got a big signal, so I knew something interesting was there.
"I put a spade in the ground, pulled it up, and there it was sticking out the side of the earth and still shining.
"I knew right away what it was."
He added: "The gold is so yellow and so pure. Rings like these were only given to royalty or high-ranking members of the church."
Yesterday, Mr McPherson brought the ring "home" to Elgin Cathedral – possibly the first time it has returned there in 500 years.
The metal detectorist made the precious discovery on his first day he was reunited with the device for about a month after he suffered a muscle injury.
The gold ring, which still retains the shape of the owner's finger, has two bright gems, believed to be a ruby and either an emerald or amethyst embedded into it.
Research done by the 60-year-old has suggested that it may have belonged to King James IV or his wife Margaret Tudor, who was grandmother to Mary Queen of Scots.
The royals are known to have stayed in Elgin and visited the town's cathedral while on two separate pilgrimages to the chapel of St Duthac's in Tain.
A similar ring found in North Yorkshire sold for more than £10,000.
Mr McPherson accepts that his find is not in as good a condition, but still ranks it as one of the "most significant" during his three decades of metal detecting.
Today, the ring will be taken to Elgin Museum for experts to examine it and to determine whether it is worthy to be showcased to the wider public.
Mr McPherson added: "I don't do this for the money.
"But rings like this are very rare. I think it deserves to be on display."