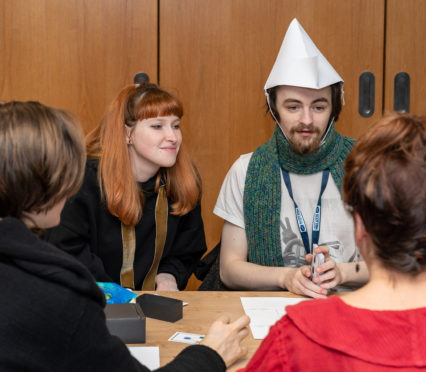 Dozens of gaming enthusiasts from across Scotland travelled to the north-east at the weekend for an endurance design competition.
Around 60 competitors were tasked with devising new video and board games based on a secret theme in just 48 hours.
Experts from Scotland's burgeoning computer game industry ran workshops throughout the event at Moray College UHI, which is the only one of its kind in the north, to guide teams towards creating a prototype capable of being put into production with the potential of being launched commercially.
Designers were encouraged to use the theme of "seeing is believing" to help guide their efforts.
Last night, judges praised the ingenuity of the games for developing ever-more engrossing and engaging concepts every year.
---
>> Keep up to date with the latest news with The P&J newsletter
---
A team of students called Paper Knights, who study a mix of arts, computing and archaeology degrees at Moray College UHI, won the board game competition with their entry Power of Three – which involved matching colour-coded cards with a theme.
Member Jake Anderson, from Forres, said: "We just started by playing cards, making up our own rules, seeing what we liked, what we didn't, and taking it from there.
"We came up with the mechanics of the game quite quickly, but then it was about developing the artwork and making sure it worked.
"The central thing for us was that we always wanted the player to be in control and not endlessly rolling a dice."
Fellow team member Zala Jamnik added: "The most engaging games are the ones where you can recover from a bad hand and play several times over quite quickly."
Meanwhile, the two-man team of Josh Johnson and Ethan Wall won the computing category for their entry The Facility – based on a Russian KGB officer needing to keep items under constant surveillance.
Amanda Millen, a director at Screen HI and a member of the judging panel, said: "One of the best parts is that we see teams coming back every year and you can see how they've developed their ideas and as individuals.
"The standard was extremely high this year, but the most important thing is that it's also a learning experience for them."