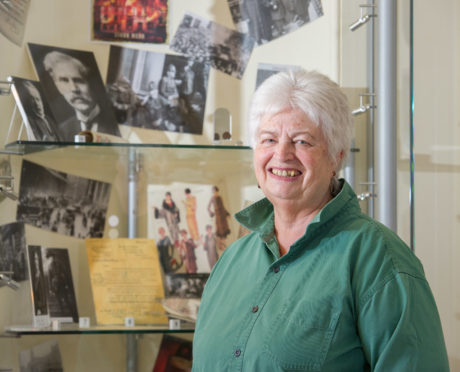 The history of Moray's vast array of war memorials is being explored as part of a new museum exhibit.
More than 50 tributes to the fallen were erected across the region in the years following The First and Second World Wars.
In the decades since, the monuments have become focal points for communities during remembrance services and through the rest of the year.
Now the landmarks are being celebrated in a new gallery at Elgin Museum which reveals the region's and the world's immediate future after the end of the first conflict.
Memories are being gathered of the memorials as well as people's relationships with them to share with visitors to the attraction.
Museum volunteer Mary Shand, who used to take pupils to the local memorial while a teacher at New Elgin Primary School, explained that each of the landmarks had their own story to tell.
"They are all quiet different in the way they were designed," she said.
"There was an assumption at the time that the tanks returning from the war would become memorials but people didn't want to be that explicitly reminded of war.
"It was more about the sacrifices and the fallen.
"Huge crowds came out to see the memorials unveiled and they all have their own story about where they were put up.
"Over time time they've become part of our communities. They've always been there.
"We're interested to find out what people think about them now."
A book of war memorial memories is being compiled at the museum, which opens again for the new season today.
Other new exhibits include sparkling gems from the area as well as artefacts featuring pottery and coins dug up from the ground by local metal detectorists.
Meanwhile, a gallery devoted to Dr Gray's Hospital's 200th birthday, including old admissions books and equipment used to treat patients, is also being prepared.
Mrs Shand added: "So many things get handed to us by metal detectorists. It's nice to get it on display to show what's under the ground."