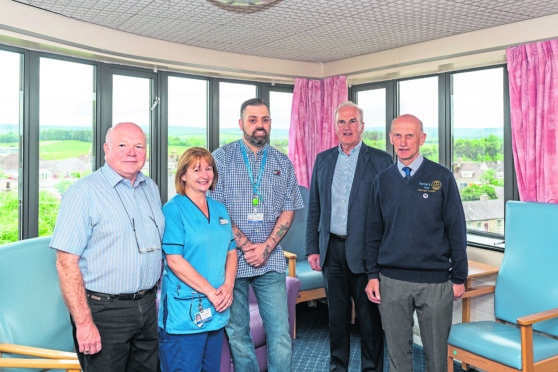 Staff trying to fund improvements to a Moray hospital have been given a cash boost for the refurbishment of a family room.
The Friends of Dr Gray's group was formed with the intention of running initiatives at the Elgin unit for patients as well as NHS employees.
Yesterday the campaigners received a £4,000 boost in their drive to improve ward six's day room.
Elgin Rotary Club donated the money to the group from the proceeds from their Spring Fling music night after hearing about the benefits the refurbishment would bring.
Carla Gordon, a staff nurse on the ward, said the facilities can prove invaluable for families who have loved ones undergoing treatment.
She said: "It's nice to have areas where people can go just to have that bit of quiet. Most of the rooms have four beds so it can get quite noisy at times and it can be good just to get away from a medical environment.
"Confidentiality is very important too. It's good to go somewhere else to discuss treatment without worrying about other people listening."
Tim Wakefield, chairman of Friends of Dr Gray's, added: "When people are in hospital there can sometimes be large groups visiting them with half a dozen people round a bed. It's nice to go to a separate area."
Staff are planning a revamp to the day room similar to the one done to a similar facility of ward five, which opened during 2017.
The room, which was renamed in honour of former surgeon Jack Miller who worked at Dr Gray's for 25 years, now has easier access, more comfortable seating and access to a tablet computer following donations from friends and loved ones at his funeral.
Jim Royan, who headed the organising committee for the rotary club event, said: "We really wanted to raise some funds for the Friends of Dr Gray's and that stimulated some conversations about what they thought would be most appropriate.
"They came to the conclusion that the refurbishment of the room was a high priority so we were happy to make a contribution."