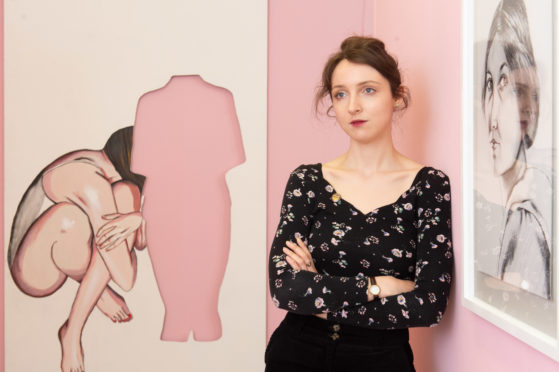 Aspiring artists in Moray have taken centre stage a major new showcase of their work from the past academic year.
A thought-provoking range of sculptures, drawings and paintings has been assembled from the efforts of a dozen Elgin-based fine art and textiles students.
The diverse galleries are part of the Moray School of Art's 12th degree show, whose aim is to highlight the creative talent of the fourth year group.
Ayrshire native Gillian Baird's installation, which is made up of two disassembled sofas, was inspired by the belief that everyone is the same regardless of how they may appear on the outside.
The 22-year-old, who is an aspiring tattoo artist, said: "When you take away everything on the outside and you are left with essentially the bare bones of the sofas, you are pretty much left with the same structure.
"It's the same with people too. I am interested in tattoos and there are preconceived ideas about people with tattoos, which aren't necessarily true.
"It's also interesting to see the amount of different materials inside a sofa that you wouldn't necessarily expect to see."
Muriel Hughes, who is 29 and originally from Glasgow, focussed her gallery on a fictional character called Ruth – based on the wife of George Mallory who died during an expedition to become the first to scale Mount Everest.
It is believed the adventurer carried a picture of his wife to leave at the summit.
Miss Hughes said: "I started thinking about her and what her life would have been like in the public realm.
"It's a romantic story but what if she was quite angry with her husband for what he got himself in to.
"It's also about looking at what the female experience is in those circumstances."
Stacey Toner, curriculum team lead for creative industries at Moray College UHI, praised the work of all the students and hoped their work would inspire those that follow.
The degree show will remain open until Saturday from 10am to 8pm today and from 10am to 5pm on Friday and Saturday.