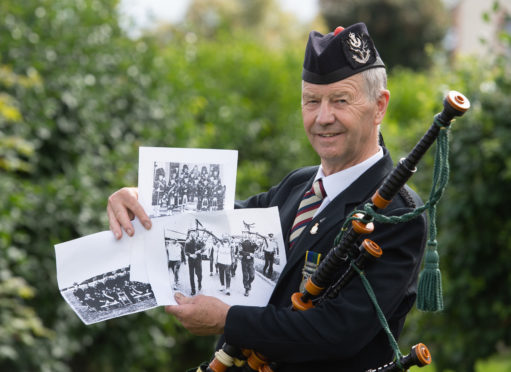 A north-east veteran has begun a search to track down former comrades for a reunion event aimed at helping them help them build bonds in older age.
Retired corporal Gordon Duncan, from Elgin, travelled the world as a piper during a career with the reserve force that began in 1971 and lasted 26 years.
More than 70 former members of the 51st Highland Division, from battalions spread from Aberdeen to Caithness and Skye, attended the last get-together in 1998.
Now Mr Duncan, 70, is organising another event in September having learnt of the death of some friends and become concerned by the increasing isolation of others.
He said: "Over time you just lose contact with people. I worked as a builder and with my job I went to Skye, Stornoway, Caithness – all over the place.
"I made a point of going to visit these guys. Some of them have passed away and it's just so sad that we never got the chance to get together as a group again.
"A lot of them have lost their wives. Some wives have lost their men. Some of them become quite depressed because they're not able to play the bagpipes anymore."
Mr Duncan, who joined the Territorial Army with a group of friends, has tracked down dozens of veterans to attend the September 7 event at Glen Moray distillery in Elgin – but has lost contact with many others.
During duties at home and trips overseas to perform as part of a pipe band the group formed strong bonds.
A varied programme of entertainment, music and refreshments has been organised for the event to help the veterans remember old times.
The reunion has also been organised to mark the centenary of the final soldiers returning home from serving during the First World War.
Mr Duncan added: "A lot of the distillery workers remained in France for humanitarian work.
"Of course, all the distilleries had been closed while they were over there. It wasn't until 1919, the year after the war ended, that they managed to make it back home again."
Anyone interested in attending the reunion event should contact Mr Duncan by calling 07514 659978 or by e-mailing gandmduncan@gmail.com.