Experimental spirits from Speyside have taken centre stage in a festival celebrating the region's drink output.
More than 1,000 people packed the Distilled event at Elgin Town Hall to sample whisky, gin and – for the first time – vodka created by local firms.
Global brands including Macallan and Glenfiddich took their place alongside small start-ups including El:gin, Avva and Dufftown-based ice cream shop Balvenie Street, which creates whisky-inspired flavours.
Novices and enthusiasts spent the weekend sampling new offerings from producers while masterclass sessions were run to teach people more about their chosen tipple.
Festival chairman, James Campbell, explained how the gathering had helped bring firms together since it launched in 2016.
He said: "It was almost unheard of for all the distillers on Speyside to come together under the one roof before we started this. They would come together at festivals in Paris, Los Angeles or wherever but not at home.
"It's such a boost for some of our small producers to be standing alongside some of the world's most famous names – and to give people the chance to talk to master distillers, who are really the stars of the show.
"Speyside is about more than whisky now.
"Two years ago there were maybe six or seven gin producers, there are now 13. We've also got our first Speyside vodkas now, which people have been interested to try."
Graham Coull, master distiller at Glen Moray, said: "It's a real mixed crowd with locals and tourists, you always get questions you've never been asked before.
"We tend to bring along a few special editions for this festival. People are familiar with our core range so it's good to give them something new to try."
Elgin-based El:gin was one of the firms which brought vodka to the festival with its Coirce creation, alongside Glenrinnes Distillery's Eight Lands.
Owner Leah Miller said: "We used Scottish oats, which gives it a creaminess you wouldn't normally expect in a vodka.
"This festival is always good because it doesn't matter if you're a massive producer of your just do a thousand bottles a year – everybody treats you the same and they want to know what you're doing."
The festival also played host to the oatcake eating world championships, with Jamie Harbour beating the competition.
Mr Harbour, who also won a haggis-eating competition in Elgin earlier this year, scoffed eight of the biscuits in just two minutes to clinch the prize.
Distilled evolved from the annual Spirit of Speyside Whisky Festival, which has been run in spring for more than 20 years.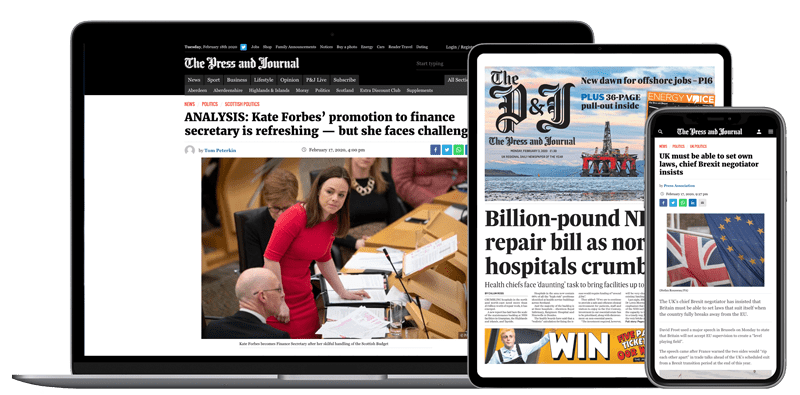 Help support quality local journalism … become a digital subscriber to The Press and Journal
For as little as £5.99 a month you can access all of our content, including Premium articles.
Subscribe