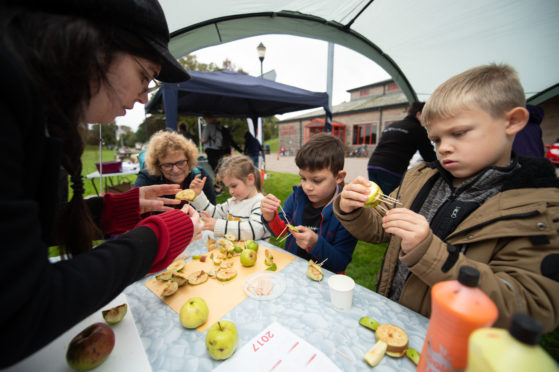 A Moray park became the venue for an apple juice production chain as a charity showcased the benefits of locally-grown produce.
Keith-based Reap ran the pressing and tasting event in Elgin's Cooper Park at the weekend to inspire people to grow their own food.
The charity is campaigning to encourage locals to nurture their own fruit and vegetables to reduce waste from packaging as well as gas emissions from transporting items across the country.
On Saturday, the group created its own juice in the park as part of its national apple day celebrations.
The event included fruit grown from trees the charity has helped be planted across the region to encourage a change of mentality in how communities perceive food.
Ann Davidson, manager of Reap, said: "This is part of our Grow Elgin project, which has involved us helping set up places to grow food across the town, including with apple trees because we have such a lovely climate for it here.
"We've got our own mini orchard in Cooper Park, which has been growing apples for the community. There are also edible plants and herbs in planters on the High Street.
"Another thing we have started is a collection of food waste from town centre businesses to keep it away from landfill and instead compose it for local gardens."
The weekend's celebrations included a competition to create the longest apple peel and art created using the fruit. Recipes to encourage households to use them in recipes including pies and chutneys were also shared.