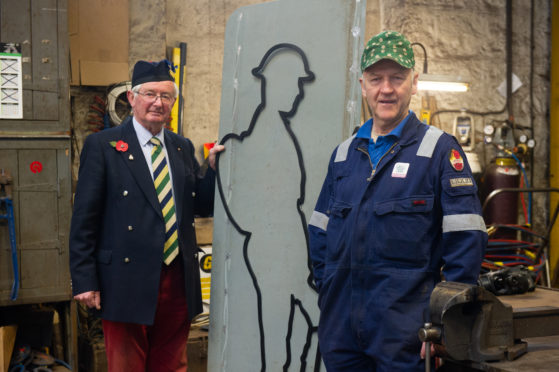 The blacksmith who repaired an Elgin war memorial that had been repeatedly vandalised has been thanked for ensuring it has been repaired in time for the weekend's Remembrance Service.
Lord Lieutenant Grenville Johnston, a Territorial Army veteran, visited Moray Council's workshops yesterday to express his gratitude for the work.
The silhouette of a First World War Tommy soldier was removed from the New Elgin memorial after being repeatedly attacked by vandals.
The incidents were condemned as "mindless" by council leader Graham Leadbitter earlier this month.
Council blacksmith Gordon Masson, who works at the authority's Ashgrove depot, has been widely praised for his repair job but insists he was "just doing his job".
He said: "This time it was in pretty bad shape, it just looked like a twisted pile of metal on my workbench.
"It took about a day and a half to fix and repaint it, which I was pleased to be able to do.
"It's such a shame that those who damaged it clearly don't understand what the figure stands for or what it means to many others."
The silhouette will be reinstated for the service at the memorial on Sunday with options then reviewed to either keep it in place or to move it to storage for protection ahead of next year's Remembrance weekend.
Mr Johnston, who also presented Mr Masson with a bottle of 18-year-old Macallan, said: "I saw the online reaction to both the vandalism and the wonderful repair and I wanted to meet the man that did such a first class job in restoring our Tommy.
"We were saddened to see the damage. Gordon's work restoring the figure to its former glory means a great deal to us all and on behalf of the Moray community I wanted to meet him and pass on the grateful thanks of everyone."