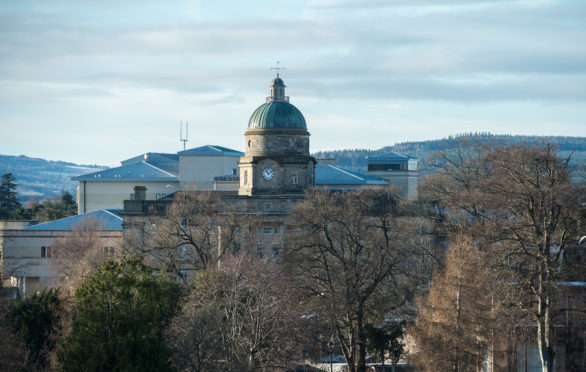 Health campaigners in Moray hope to begin work to renovate a historic feature of the region's largest hospital before the summer.
Staff at Dr Gray's have been staging a series of fundraisers throughout the year to celebrate the 200th anniversary of the Elgin unit's opening.
Now it has been revealed that £31,000 has been raised by NHS employees and supporters as part of the effort.
The Friends of Dr Gray's group, which was formed last year to fund improvements for staff and patients, set the ambitious goal of funding a restoration project to restore the hospital's striking dome and its three clock faces, which have long stopped working.
Bells rang out from the tower for the first time in more than 50 years in January as part of the project.
And through the year the group's cause has been supported by donations from fundraising missions and backing from local firms including Johnstons of Elgin and Walkers.
The Princess Royal also made a return visit to Dr Gray's to unveil a mosaic designed by Lhanbryde-based artist Jo Adam to celebrate the 200th anniversary – having initially opening the redeveloped facility in 1995.
Tim Wakefield, chairman of Friends of Dr Gray's said: "We are extremely grateful to everyone who has donated or contributed in any way over the year, and to all those who continue to support us, and are delighted to have raised such a significant sum.
"We are in advanced discussions with specialist contractors and NHS Grampian, and are optimistic that the refurbishment work will be able to start in late Spring 2020.
"In the meantime, our fundraising efforts will continue.
"They will hopefully deliver a lasting legacy for patients, staff and the wider community."
The fundraisers also received a £4,000 donation from Elgin Rotary Club during the year to contribute towards the restoration of the Ward 6 day room.
Dr Gray's opened in January 1819 with just seven members of staff and 30 beds.
The original admissions book for the hospital was put on display at Elgin Museum as part of the bi-centenary celebrations.
Today the unit has nearly 200 beds, 500 staff and provides care for about 20,000 patients every year.