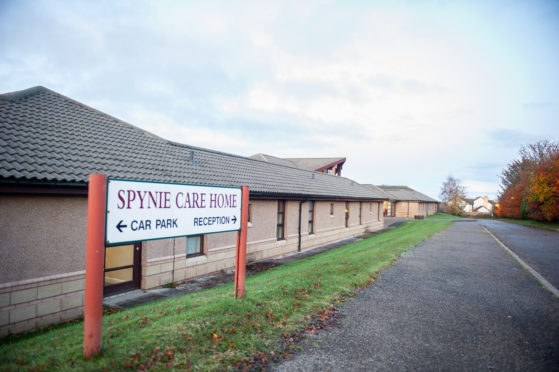 Inspectors have delivered a damning report on an Elgin care home already faced with a looming deadline to make improvements.
Spynie Care Home was issued with an improvement notice in June 2018 amid concerns about staff training, management and leadership.
The home, managed by Intobeige Ltd, has until Friday to show it has made changes – or risklosing its registration and being forced to close.
But now a fresh report has been issued following another inspection, which shows some of the action demanded has still not been carried out.
Comments included from relatives described the bed quilts as "a disgrace", sheets as "awful", a "reliance" on chips for meals and concerns about the hygiene of residents.
A lack of communication between staff and loved ones was also highlighted with one saying the only information they had received was the bill.
Observations recorded by the Care Inspectorate during their visit in October included occasions where staff spoke to residents with "a lack of compassion, dignity and respect".
Meanwhile, care levels were found to be "inadequate or insufficient" to prevent harm and minimise risks including falls.
Inspectors also saw "very little interaction" with residents with some left unsupervised while requests for help were not always responded to and people were found to be walking "aimlessly" around their units.
A previous visit from the Care Inspectorate in February last year highlighted concerns about residents "staring into space" for long periods.
Admissions to the home have been suspended since May last year after Health and Social Care Moray launched a "large-scale investigation" following concerns about the quality of care with an assurance the inquiry did not cover allegations of physical abuse or criminality.
The Duffus Road home was graded as "weak" for supporting well-being, leadership, staffing and planning care and support following the most recent visit.
Health and Social Care Moray has already committed to working closely with the management to support them to make the required improvements ahead of this week's deadline.
A spokeswoman added: "As always, our focus is on ensuring that the people who live in Spynie Care Home receive quality and safe care."
A Care Inspectorate spokesman said: "Everyone in Scotland has the right to safe, compassionate care which meets their needs and respects their rights."
Inspectors set more deadlines for the end of February to ensure that all residents have a personal plan to detail their health, welfare and safety needs with "discrepancies" found in the current process of introducing electronic versions.
Spynie Care Home was approached to comment yesterday but declined.
Anyone with concerns can contact the Care Inspectorate on 0345 600 9527.
Timeline
May 17, 2018: Admissions suspended after Health and Social Care Moray launches "large-scale investigation" following concerns raised by Care Inspectorate officials.
June 8, 2018: Improvement notice served by Care Inspectorate amid concerns about whether residents were being treated with enough dignity and whether staff had the required training.
February 12, 2019: Care Inspectorate report describes residents "staring into space" following visit with service graded as "weak", the second worst of six possible ratings.
November 13, 2019: Care Inspectorate serves second improvement notice to management amid demands that "urgent" improvements are needed