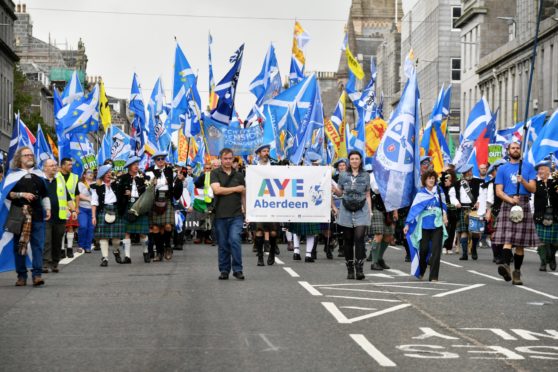 There is concern Moray Council could be left with a bill for thousands of pounds if organisers of a pro-independence march do not co-operate with the cash-strapped local authority.
Plans have been announced for a parade from Elgin Academy through the town centre and ending in Cooper Park – sparking warnings of potential traffic "chaos".
Pro-independence organisation All Under One Banner (AUOB) has published details of the July 4 event on its website.
Last night, Tim Eagle,  Conservative group leader on Moray Council warned: "Whilst there is a right to march, the organisers must have regard for the rights of others.
"Given the history of problems, and huge costs that these marches have caused councils, it is very important the organisers work with the police and the local authority.
"If organisers won't co-operate, Moray Council will be left having to pay for the licenses, road closures and sorting out parking on the day.
"There is the potential to cause chaos here as there is likely to be a rolling road closure on the A941 Elgin-Lossiemouth Road which is particularly busy on a Saturday."
Council leader Graham Leadbitter, of the SNP, said he would not comment until he saw the group's plans.
AUOB's previous marches have attracted large crowds across the country.
But the organiser of the Aberdeen march last August, Gary Kelly, has now been taken to court – accused of failing to secure traffic management services and public liability insurance.
Mr Kelly appeared at Aberdeen Sheriff Court last week, where his case was continued without plea. He will return to court next month.
Aberdeen City Council had said it would be seeking £6,000 to cover traffic management costs on account of city centre road closures – a cost AUOB refused to pay.
If Mr Kelly is found guilty, the courts could order he pay compensation to the council.
But the SNP's Richard Lochhead vouched for the organisers of the Elgin march and moved to reassure the public that council coffers would not be hit.
The Moray MSP said: "I have no doubt the organisers of the Moray march will meet their responsibilities and deal with the authorities in a cooperative manner.
"There is already huge interest in the Moray march given the strength of feeling that Scotland should be given a say on its own future.
"The similar marches that have taken place across Scotland have been good-natured and well-organised.
"They have attracted tens of thousands of people and we are lucky to live in a society where people are able to take part in such events."
Andrew Wilson, one of the organisers of All Under One Banner, last night stressed that the marches are organised by local people to give them the chance to make their feelings heard.
The Elgin event is one of seven planned for 2020, with others lined up in Arbroath, Glasgow, Peebles, Kirkcaldy, Stirling and Edinburgh.
Mr Wilson pointed to the recent marches in Inverness and Aberdeen, and said: "This is about helping people across the country organise marches and rallies.
"We have lots of contacts in Morayshire which is why we're now planning to do this.
"I'm not surprised that Conservative representatives are saying their principle concern is money. However, for citizens more generally, their principal concern is to exercise their democratic right."
He added that out of the dozens of marches and rallies held since the group formed in 2014, only Aberdeen City Council had sought money for a traffic regulation order and said local authorities should not be able to "pick and choose" who they charge to exercise their rights.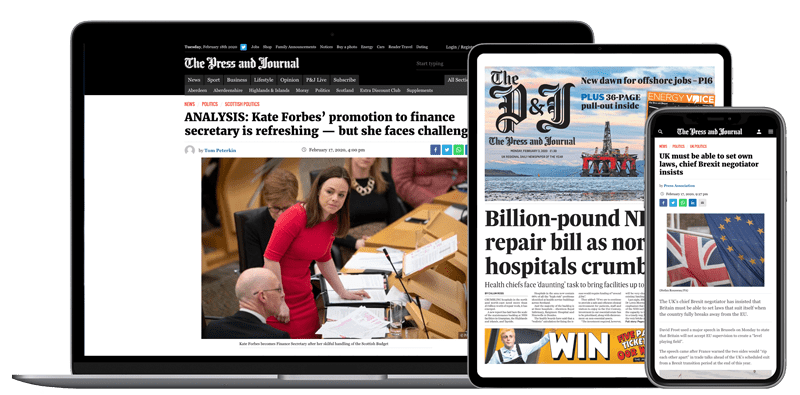 Help support quality local journalism … become a digital subscriber to The Press and Journal
For as little as £5.99 a month you can access all of our content, including Premium articles.
Subscribe