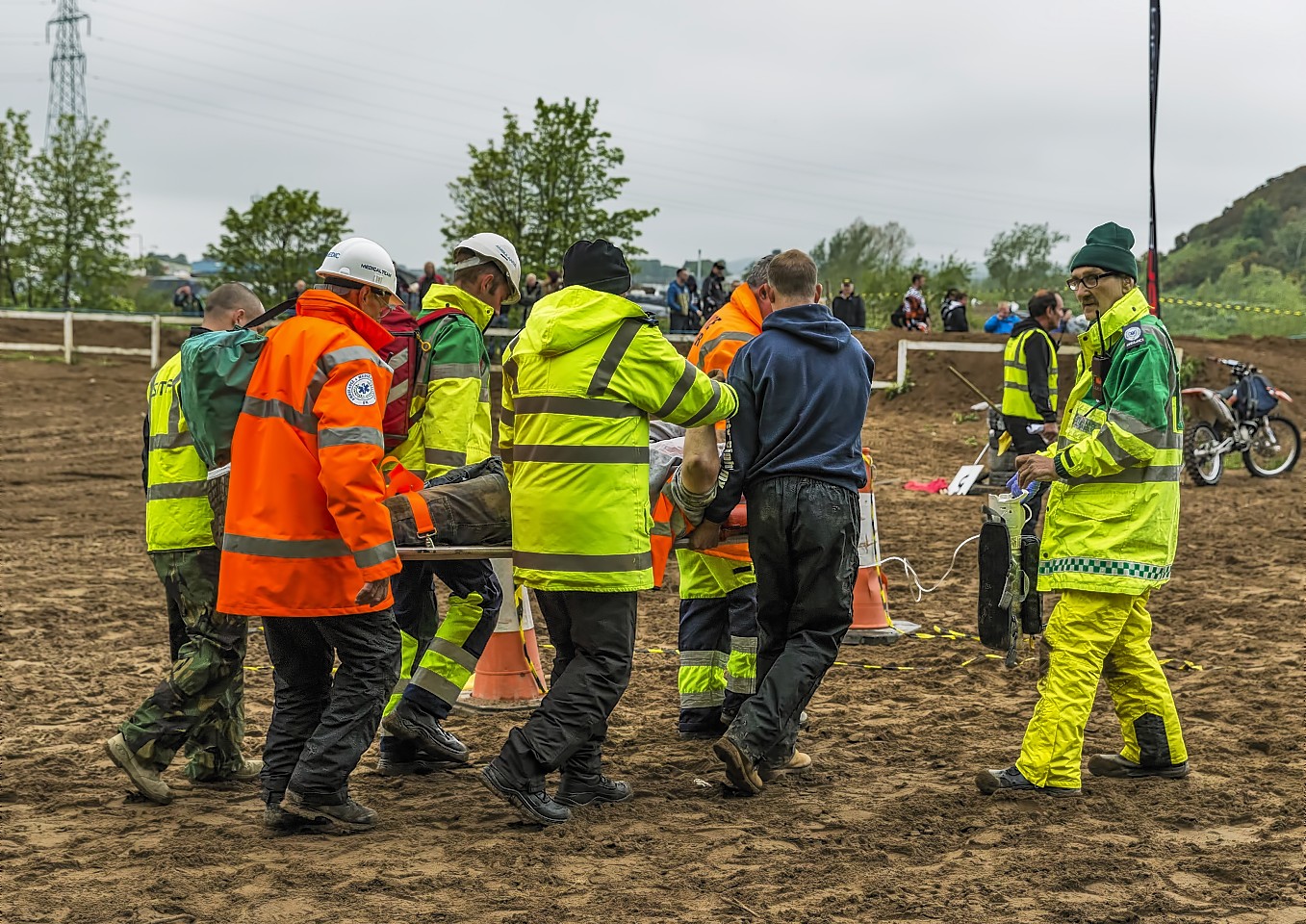 The head of the UK's motocross governing body will fly to Moray to carry out his own probe into a weekend of mayhem on a track at Elgin.
Nine people were taken to the town's Dr Gray's Hospital – including two race marshals – and up to 10 others were injured during the event at Woodside track.
The meeting, which was held over Saturday and Sunday, included round three of the Scottish Motocross Federation's championships and attracted 165 competitors from all over Britain.
Now Roy Barton, who heads the Motocross Federation (MCF), plans to travel to the region to hold talks with everyone involved in the event.
But he stressed last night that accidents were inevitable in the sport.
He said: "Anybody who races knows that it's dangerous.
"Before they are allowed to compete they have to fill in paperwork and take out licences which make that fact very clear.
"That danger is all part of the attraction of the sport. It is adventurous and gives people an adrenaline rush.
"Obviously, we work hard to make it as safe as we possibly can, but there are not many riders who don't get injured at some stage in their careers."
Mr Barton said he would be examining whether alterations should be made to the Woodside track in the Lesmurdie area of Elgin to reduce risks.
He added that the MCF's insurance company would also be conducting its own investigation.
Kyle "Crasher" Burnett, a former Tain Royal Academy student, suffered broken vertebrae after colliding with two race marshals on Sunday morning.
They had run on to the track to help a fallen rider.
One marshal suffered a punctured lung, while the other sustained a broken leg.
A second rider, Grant Fraser, is also understood to have broken his back.
He is the son of Pamela and Brian Fraser, the secretary of the Elgin-based Grampian Motocross Club, which organised the event.
Councillor for the area, Barry Jarvis, who represents Elgin City North, welcomed the investigation into the weekend's accidents.
He said last night: "It is important to find out what happened, and why it happened, and if any improvements can be made.
"But it is a well-run event with lots of safety measures – these appear to have been a series of unfortunate incidents.
"They are not a fair reflection on the club, or the event itself, as it normally passes without any hitches."
A four-time motocross champion, 17-year-old Ian Findlay, suffered a triple leg break after crashing on the course in March.
An air ambulance was called to the track after the accident, which happened on the first day of the season for the club.
Mr Findlay was thrown from his machine seconds after the start of a race – and fellow rider Jamie Mitchell then ran over his right leg, causing the serious injuries.
Mr Findlay, who comes from Inverness, was given morphine by paramedics at the scene before he was airlifted to the city's Raigmore Hospital.
Mr Mitchell, from Elgin, had initially managed to walk off the track on crutches but was also taken to hospital after medics noticed blood pouring from the bottom of his boot.
The track in Elgin is described as "suitable for all levels of riders" by a website dedicated to the sport.