Musician records album tribute to Jimmy Shand in his lockdown 'ceilidh cabin'
A north-east musician has transformed a summerhouse in his back garden into a ceilidh cabin to share his love of music during the coronavirus lockdown.
Graeme Mackay, from Elgin, is ordinarily accustomed to travelling across the country with his band Tweed – and had been due to perform at Belladrum as well as the opening night of the Spirit of Speyside Whisky Festival before both events were cancelled.
Without any venues to perform in the accordion player, who is originally from Caithness, has instead been performing to audiences from his back garden five nights a week.
More than 100 music lovers from across the globe have regularly been tuning in for the online shows from the ceilidh cabin.
Now the 37-year-old is preparing to release a 20-track album dedicated to his musical hero Jimmy Shand, which has been recorded in the hut featuring some of the legendary performer's most popular and unknown tunes.
Without anyone able to visit Mr Mackay's home he has played all the accompanying parts of each song as well as engineering the make-shift recording studio in the back garden.
Mr Mackay said: "I've never spent as much time at home as I have done in the last few months, I've always been on the road.
"My partner runs music lessons from home so it started as a way just to make myself scarce but it has really grown with some enthusiasts.
"They were always asking me play some Jimmy Shand tunes, which gave me the idea of the album, which has been a real labour of love for the last four weeks."
Mr Mackay's love of traditional music comes from a legacy of his father and grandfather both taking to the stage as musicians themselves.
From a young age the Tweed performer has been enthralled by the genre and met his hero Jimmy Shand when he was 15 years old with a picture of the two of them featuring on the cover of the new album.
He added: "I was playing down in Fife and wrote to him to say it would be nice if he could come and see us play.
"I got a lovely letter back from him to say he wasn't fit to come to the dance because he was 90 years old and he couldn't manage it.
"Instead he invited me round to his house though. We just talked music, it was a fabulous experience and one that is very special to me.
"Jimmy is really the king of Scottish dance music, he really set the standard that everybody since has followed."
Mr Mackay's musical tribute to Jimmy Shand will be released on June 1.
It can be ordered online here or by e-mailing graeme@mackaymusic.co.uk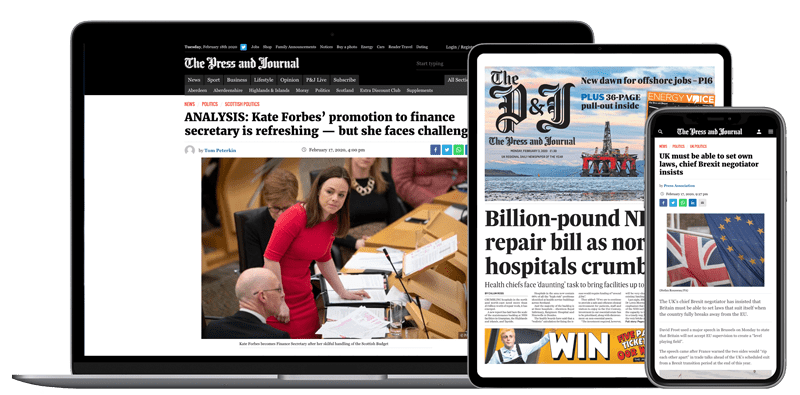 Help support quality local journalism … become a digital subscriber to The Press and Journal
For as little as £5.99 a month you can access all of our content, including Premium articles.
Subscribe