A committed Moray teenager has defied expectations to overcome disabilities to raise thousands of pounds for charity.
Ella Langdale, from Elgin, has been diagnosed with Lennox-Gastaut syndrome – a complex, rare and severe form of childhood epilepsy that leaves her prone to uncontrolled seizures.
Throughout the lockdown period the 15-year-old, who also suffers from mobility limitations, received help from two Chas (Children's Hospices Scotland) at Home carers to assist with everyday life for her and her family.
At the weekend Ella and her younger sisters Evie and Erin completed the last two laps of their 100-lap target round their cul-de-sac – the equivalent distance of more than 60 miles.
The task has proven challenging for the Forres Academy student to complete over the last three months but motivational support from neighbours has pushed her over the line.
The girls have raised more than £2,000 for Chas so far to repay the charity's support for the family.
Mum Kristy Langdale said the challenge was the sisters' way of repaying the work of nurses Mairi Stirling and Steph Whytoch.
She said: "When we first moved up to Elgin two years ago we were unaware that Chas could help us out, but fortunately the hospital recognised what they could do to help give comfort to Ella and our family in general and put us in touch.
"Particularly in this lockdown situation, we have come to realise that without the passion and dedication of Chas, we would have been lost.
"Mairi and Steph are qualified nurses that help support our family. They play games, help make tea and are just another friendly face in the house and bit of extra support. Despite all the odds, we've been able to make some really happy memories this summer."
The sisters had initially set a target of raising £150 through the challenge but quickly smashed that total within 24 hours.
Neighbours have been donating money while the girls have been making their way through the streets surrounding their home.
Representatives from Chas cheered the young trio over the line as they finished their final two laps on Saturday.
Community fundraiser Ruathy Donald has encouraged others to set themselves similar goals as part of the charity's Run 100 Raise 100 challenge, which begins next month.
She said: "The response to Ella's challenge has been a real beacon for Chas in the north-east and has helped keep us visible when families need us the most.
"Fundraisers like Ella's are helping us sustain services. On behalf of the Chas at Home team and the charity in general, we are humbled that the Langdale family have gone to all these efforts."
More information is available about the Run 100 Raise 100 challenge online at www.chas.org.uk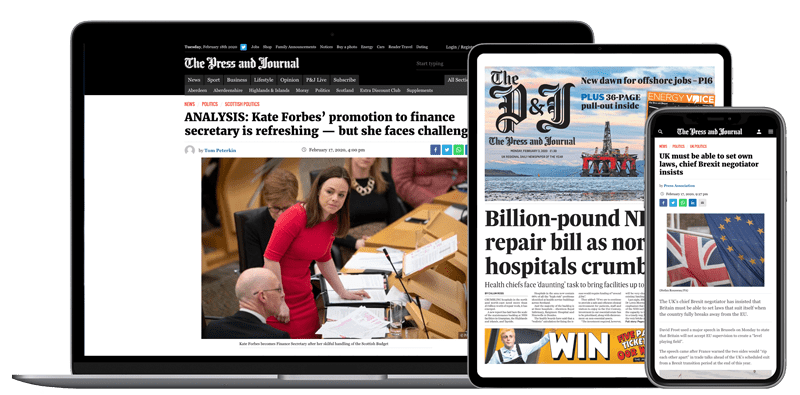 Help support quality local journalism … become a digital subscriber to The Press and Journal
For as little as £5.99 a month you can access all of our content, including Premium articles.
Subscribe