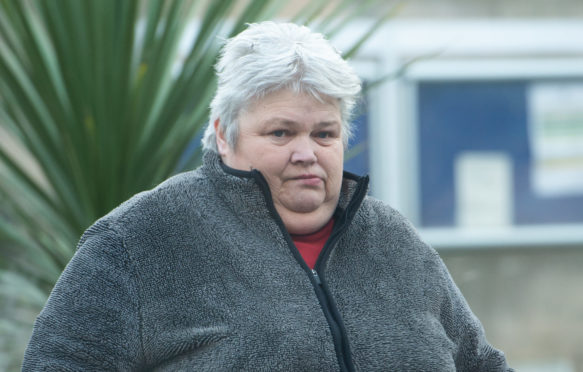 A thieving charity boss who pocketed funeral collection cash destined for the cause has been accused of stealing "so much more" from members.
Janice Russell, from Lhanbryde, took £300 pledged by mourners for Elgin Stroke Friends following the death of group member David Newlands.
When the 58-year-old was handed the money by the funeral director she took it for herself instead of handing it to the charity, which she was vice-chairwoman of.
Yesterday Russell was fined £250 at Elgin Sheriff Court after pleading guilty to a charge of embezzlement. The court heard she has paid back the money the stole.
Questions about the finances of Elgin Stroke Friends, which had about 70 members at its peak, forced the group into abeyance in August 2018, with meetings still to resume two years on.
Yesterday Russell was accused of robbing members of more than just money.
Pringle George, who is treasurer of the group, said: "She may have taken £300, but she has robbed us all of so much more.
"The meetings used to be the highlight of some of the members' week. When you have a stroke loneliness, depression and isolation can be big problems, we've lost a few members since all this happened.
"It all came as a terrible shock, we couldn't believe it.
"David was an exceedingly popular member. He used to run a business in Elgin and was well-known. It was lovely for the family to request the collection should come to us."
Elgin Stroke Friends ran exercise classes for members while they recovered from their ordeal as well as social outings and the chance to talk to others about the difficulties following a stroke.
Mrs George said she hoped meetings of the group, which is a subsidiary of Chest Heart and Stroke Scotland, would be able to resume following the coronavirus pandemic.
Defence solicitor Matthew O'Neill said Russell, who was not present in court, had gone to a police station to hand over the £300 she admitted stealing.
He added: "Unfortunately there are some significant health difficulties which are at the back of all this."
Fiscal Sharon Ralph confirmed Russell, of St Moluag Place in Lhanbryde, had been of good behaviour since pleading guilty in January.