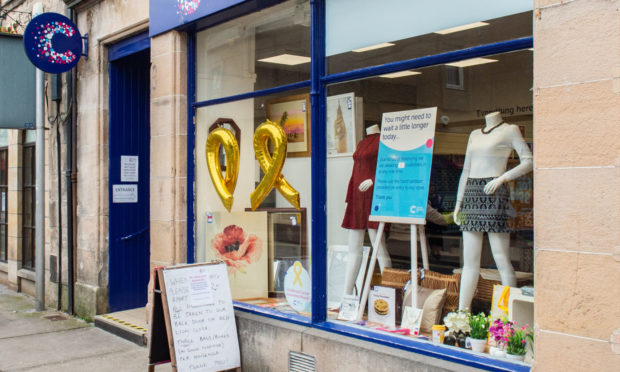 An Elgin vandal who smashed a charity shop window has been ordered to pay £1,540 compensation to the cause.
Jake Main targeted the Cancer Research UK store after getting into a row with his girlfriend.
Yesterday the 25-year-old was also ordered to compensate the charity and fined an additional £400 after pleading guilty to a charge of wilfully or recklessly destroying or damaging property.
The vandalism to the store has been described as "upsetting" for the staff and volunteers who work there.
Fiscal Sharon Ralph told Elgin Sheriff Court the offence, which happened at about 7.20pm on November 24 last year, was "senseless, mindless vandalism".
Main, of Cameron Road in Elgin, was caught on CCTV kicking the shop window shortly after leaving the nearby Muckle Cross pub with his girlfriend.
The vandal, who was not present in court yesterday, had not bought alcohol inside but was described as appearing intoxicated and was monitored by bar staff.
Mrs Ralph said: "They both left but he got into an argument with his girlfriend and was acting aggressively, he removed his T-shirt and threw it away. His girlfriend hailed a taxi, which caused him to get more agitated.
"He kicked a window at 32 High Street, which caused no damage, then kicked the Cancer Research UK shop window and put his foot through the glass."
Lisa Adams, Cancer Research UK spokeswoman in Scotland said: "Our shops pride themselves on bringing communities together.
"This incident was upsetting for the volunteers and staff who work tirelessly to raise vital funds for our life saving work.  We make every effort to protect our shops. Any incidents of vandalism or theft at Cancer Research UK shops are always reported to the police."