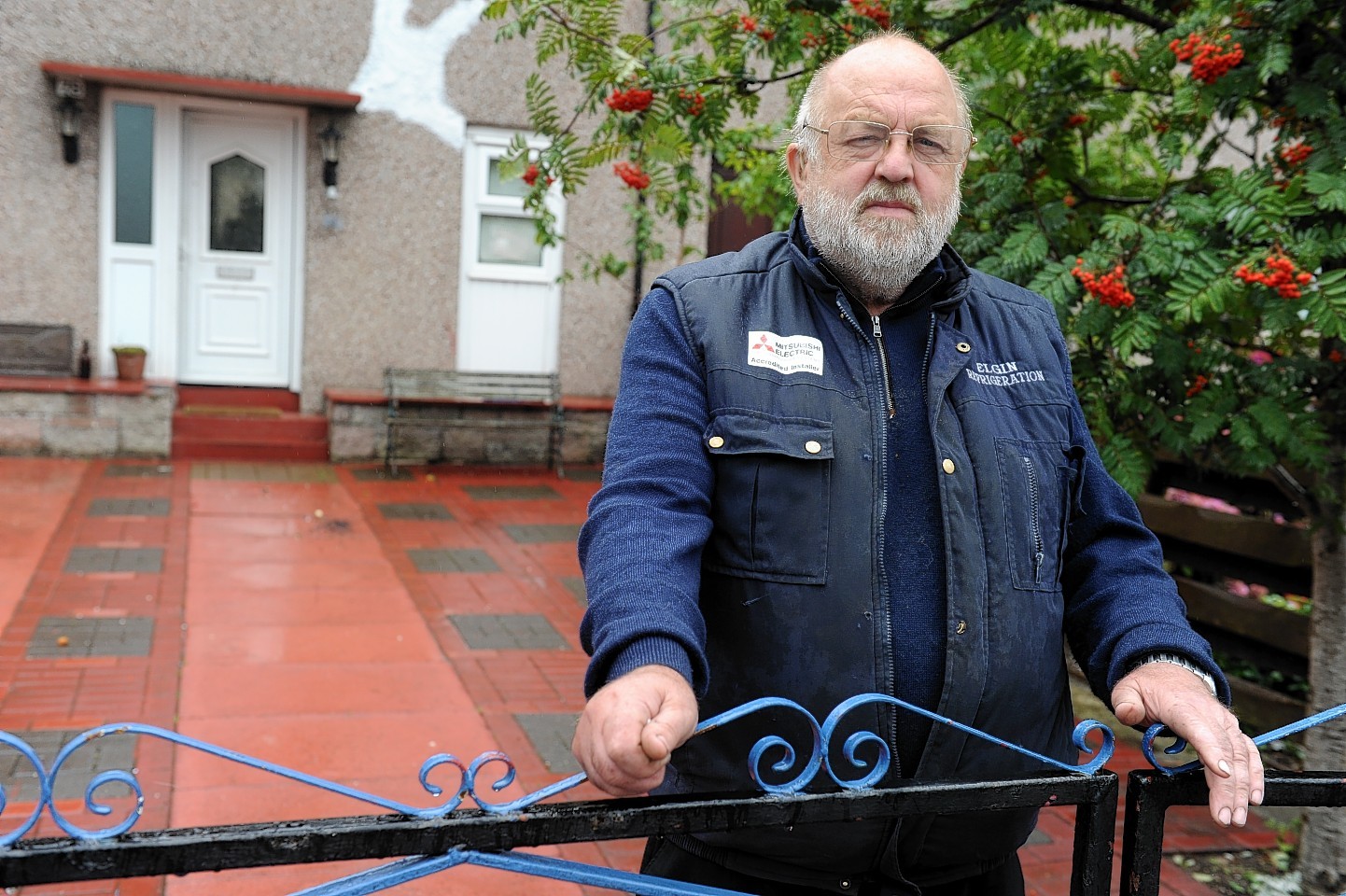 A Moray charity worker has been left "heartbroken" after thieves stole a half-ton copper wire ball that he was assembling to help sick children.
Brian Henderson has spent the last three months collecting scrap metal and old appliances from local businesses so he can strip them down and sell on to raise money for good causes.
Since April, the retired forklift driver has donated £1,700 to various groups and was planning to donate the proceeds from the ball – worth an estimated £1,000 – to Royal Aberdeen Children's Hospital.
But yesterday the 66-year-old revealed thieves had struck at his home in Elgin in the middle of the night and made off with his creation.
He said it would have taken about five men to lift the giant structure.
Police said they were investigating the theft and appealed for anyone with information to come forward.
A spokesman for the Archie Foundation, the charity which supports the hospital and its young patients, said volunteers were disappointed that the OAP's kind gesture had been wrecked.
Mr Henderson told the Press and Journal: "I'm heartbroken.
"It took me three months of stripping down washing machines to make that ball, it was massive.
"I was outside at nights when I had nothing else to do, I joined all the wire again and just kept winding it back and forth, and round and round.
"I was trying to get as much as I could for the sick kids in Aberdeen.
"Who would steal from charity?"
Mr Henderson said the ball was in its usual place when he returned home on Friday night at around 10.30pm.
A neighbour heard a ruckus around 1am and when Mr Henderson awoke on Saturday he found it had vanished from his front garden.
He said: "The dog sleeps right beside the door, and I can't understand why he never barked. When the postie comes he goes berserk.
"The ball probably weighed about 500kg, you would need about five guys to lift it.
"I was keeping it at the back, and they would never have got to it there, but we couldn't get out of the gate with it so I had to take it round the front.
"I can't start another ball, I have lost it, I think it's long gone.
"Then again, conscience might get to whoever took it. All we have now is hope."
David Cunningham, chief executive of the Archie Foundation, said "We are very disappointed to hear what has happened, it was very kind of Mr Henderson to be collecting for the charity.
"We have had wonderful support from the people of Elgin and Moray to help us to make a difference for sick children in the north of Scotland, most recently with our appeal for Dr Gray's hospital."
William Wilson Ltd, a national supplier of plumbing and heating products, is one of many local businesses that has worked with Mr Henderson on the project.
Elgin Branch Manager Doug Gordon said the intrepid fundraiser had put a huge amount of effort into his creation.
"Brian helped tidy up our yard considerably, working on his own initiative.
"What he has collected from us was a scary amount, and we won't be acquiring that again for a long time."
A spokesperson for Police Scotland said: "A copper wire ball was taken between 11pm on Friday, August 15 and 7am on Saturday, August 16.
"Inquiries are ongoing, and nobody has been arrested or charged yet.
"We would appeal for any witnesses to come forward."
Anyone with information is asked to contact police on 101 or Crimestoppers on 0800 555 111.