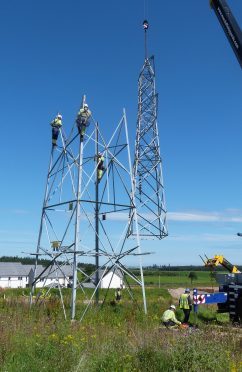 Eyesore electricity pylons have been dismantled to pave the way for the completion of a new housing scheme.
Overhead cables in Elgin are being replaced with undergrounded lines as part of the 160-home project.
A specialist team climbed up the metal structures to dismantle them, while a crane stood by ready to lift the pieces away.
Robertson Homes took apart the four 65ft pylons as construction continued work on its development near Duffus Road.
The overhead cables have loomed over houses in the north Elgin for decades.
Robertson Homes development manager, Colin Souter, believes views will now improve dramatically for residents as a result of the removal work.
He said: "These pylons ran through the spine of our site at Hamilton Gardens and it was always our intention to replace them with an underground solution.
"Removing these pylons was part of our long-term strategy for Hamilton Gardens and it is pleasing to see that come to fruition.
"I am sure the residents will now enjoy the unrestricted views to the north of Elgin.
"The completion of this project is the culmination of many years of planning and discussions and the end result certainly shows that all this effort has been more than worthwhile."
The housing firm worked with energy giant SSE for 18 months to co-ordinate the removal of the overhead power lines.
The metal from the pylons will be broken up and scrapped.
The structures' demise has been welcomed by the town's community council.
Secretary, Gordon Methven, said: "Whenever we have discussed high structures in the past everyone has expressed an opinion they should either be removed or be installed in a place where they are not visible or becoming an eyesore.
"We would support anything that would improve the local environment for the benefit of everyone."