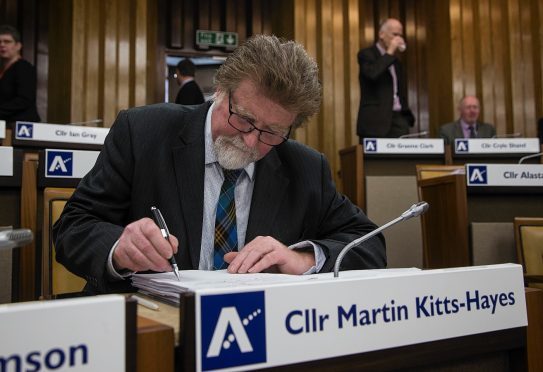 Jamie Ross
Aberdeenshire Council has called a special meeting in response to growing anger about a councillor's botched jobs mission to Denmark.
The authority's co-leader Martin Kitts-Hayes flew to Billund on June 14 to take part in the North Sea Commission's annual conference, designed to promote the region as a major European powerhouse.
But after finding out he was staying at a Legoland holiday village, he abandoned the trip and returned home – costing the taxpayer more than £3,000.
He advised his personal assistant not to tell anyone his delegation had returned to Scotland, and informed the president of the conference that the story only broke because a "disgruntled" member of staff spoke out.
Provost Hamish Vernal has now called a special meeting of the full council to discuss the matter after the Press and Journal exclusively revealed details of the report.
The meeting will take place on Thursday, September 1.
Last night, chief executive Jim Savege said: "Given the public interest [in the issue], the provost has asked me to arrange a meeting of the full Aberdeenshire Council to discuss the report into the investigation of the visit to Billund.
"He believes it is in the best interests of this council to consider the report in public as soon as possible."
An investigation into who leaked the report will also be carried out by the council.
Mr Kitts-Hayes did not respond to efforts by the Press and Journal to reach him. In the past, he denied he tried to cover up details of his truncated trip abroad, and claimed he told senior officials about the issues at Legoland as soon as he returned home.
The Aberdeenshire Alliance group has called for him to resign.
Cllr Peter Argyll, a member of the group, said: "Nothing in the findings of the report has changed our minds as to the culpability of Councillor Kitts-Hayes.
"He has wasted taxpayers' money, he has failed to take responsibility for his actions, he has brought discredit on the council and yet he continues to cling to office propped up by the SNP and his Labour allies."
Co-leader Richard Thomson previously rebuffed calls to make the report open to the public before September, when councillors were due to discuss its findings.
Mr Kitts-Hayes travelled to Denmark with Westhill councillor David Aitchison and council employee Martin Brebner. The latter duo returned home with him.