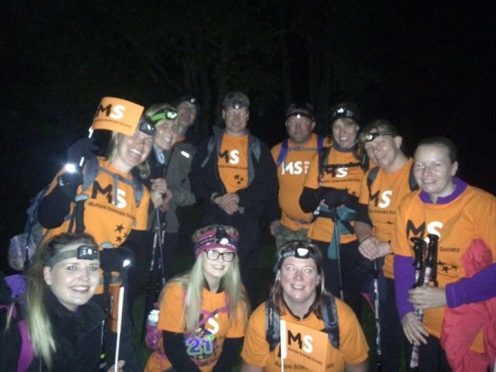 A group of north-east walkers called the Hairy Hikers have raised more than £8,000 to fight multiple sclerosis by scaling Britain's highest peak.
The party from the New Deer area decided to embark on a night climb of Ben Nevis to raise money for MS Society Scotland.
And the 11 members of the team reached the summit on Saturday night, including Kerry Anderson, who was diagnosed with the disease a decade ago.
One of the redoubtable collective, Sarah Cooper, described it as a "monumental achievement" for her friend.
She said: "All 11 of us made it to the top which was an amazing achievement, but more than that was the fact Kerry made it too.
"She got diagnosed with MS 10 years ago and climbing this mountain was a monumental achievement for her, so I really feel she deserves a massive shout out.
"It was very emotional at the finish line."
As of last night, the total amount raised through the Hairy Hiker's Just Giving website was sitting at £8,235. This figure is already more than double their initial £3,300 target.
Mrs Anderson's daughter Casey said: "There are many people suffering from MS. Ten years ago, my mum Kerry was diagnosed.
"Last year, she suffered her worst relapse, and she has received lots of specialist medical care and medication, so we decided to raise money for MS, hoping someday we can find a cure.
"We are so grateful and chuffed with the amount we have raised, and we also have more to come. We can't thank everyone enough for the help and donations."
Miss Anderson added that although the team were immensely proud of their achievement, the night climb was "horrible" and she won't be attempting it again.
Multiple sclerosis is a condition of the central nervous system which affects more than 100,000 across the UK.
According to the MS Society, symptoms usually present in a patients 20s and 30s and the condition affects almost three times as many women as men.
To donate to the Hairy Hikers team, visit: www.justgiving.com/fundraising/hairyhikers11