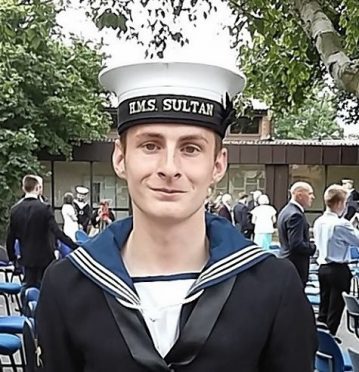 A young Royal Navy engineer has died in a freak accident in a north-east town.
Ruairidh MacKay was rushed to hospital after falling off a 6ft wall during a night out in Banff earlier this month.
The 18-year-old – who was just weeks away from his first deployment – died from his injuries on Monday.
The teenager was visiting his family and friends at home in Macduff after completing the second phase of his training at HMS Sultan – the home of Defence School of Marine Engineering – in Gosport last month.
He had been due to then continue his training onboard a navy ship.
But Ruairidh was seriously injured after falling from a wall on St Catherine Street, Banff at about 3.30am on September 4.
It is believed the former Banff Academy pupil was in a coma for several days before he died at Aberdeen Royal Infirmary on Monday.
His family, parents Robbie and Amanda and two sisters, were too upset to speak about the tragedy yesterday.
But his twin, Megan, posted a touching tribute online, and said: "Our universe grants every soul a twin – a reflection of themselves – the kindred spirit.
"And no matter where they are or how far away they are from each other, even if they are in different dimensions, they will always find one another.
"Rest in Peace Ruairidh, I will be with you again one day my special twin."
She has also launched a fundraising campaign in her brother's memory, and has already secured more than £2,300 for the Intensive Care Society.
She plans to run a triathlon in Huntly at the end of September, and said on her JustGiving page she wanted to show her appreciation of the society's hard work and efforts to save lives.
Friend and colleague Emily Sennett also paid tribute, and said she would always remember him.
She wrote: "Your craziness and laughter will be remembered forever. Raising a drink to you.
"Tomorrow is never promised, live every day like it's your last."