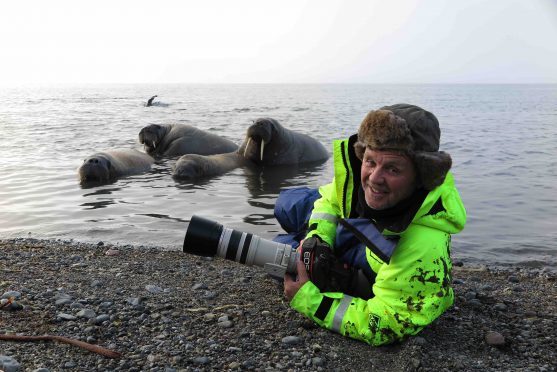 A renowned wildlife photographer will visit a north-east aquarium later this month in celebration of literature.
National Book Week, which runs from November 21 to 27, celebrates Scotland's authors, poets, playwrights, storytellers and illustrators who bring together readers of all ages.
And in Macduff, it will bring renowned film maker Doug Allan to the port for an evening talk.
Mr Allan, who is more often behind the camera than in front of an audience, will share his experiences of working in Antarctica on Friday, November 25.
He spent seven years as a research diver, scientist and photographer for the British Antarctic Survey and has since become one of the world's most respected cameramen.
Specialising in natural history, expedition and science documentaries in some of the wildest and most remote places on our planet, his work has been in television series such as The Blue Planet, Planet Earth, Frozen Planet, Ocean Giants, Operation Iceberg, and most recently for Brian Cox and his Forces of Nature on BBC 1.
Last night, Claire Matthews, the aquarium's manager, said staff were thrilled to host the photographer.
"He's a very well known under-water film maker and we're absolutely thrilled to have him here," she said.
"He's one of the best in the business and the talk he's going to give, I'm sure, will be fascinating."
National Book Week will also be celebrated in libraries across Aberdeenshire.
On November 21, the Museum of Scottish Lighthouses in Fraserburgh will host marine biologist Matt Lewis who nearly succumbed to conditions while working in the Antarctic Ocean.
Mr Lewis was a scientist aboard a South African fishing vessel when it was swamped by waves in a storm and began sinking.
His book, Last Man Off, is his account of the experience.
And Steve Leonard, a well-known TV vet from series such as Vets in the Wild, will be at Belwade Farm in Aboyne on Thursday, November 24 to recount some of his own hair-raising tales.
Each of the talks are ticket-only events.
Tickets can be purchased at www.eventbrite.com