The harbour master at the north-east's Local Hero village has been found dead near his seafront bothy in the tiny port.
Emergency services were called to Pennan after 67-year-old Baden Gibson was taken ill as he got his fishing boat ready for a trip.
It is understood there was nothing paramedics could do to save him and he died at the scene.
Mr Gibson was a lifelong resident of Pennan and had been harbour master for 40 years.
He was cast as an extra in Billy Forsyth's Scottish comedy Local Hero – which starred Hollywood legend Burt Lancaster and current Dr Who Peter Capaldi – and had campaigned for the picturesque village to be used in more TV and film productions.
After the success of the 1983film, many residents cashed-in on the village's new found fame and sold up.
And after his mother moved away 20 years ago, Mr Gibson became Pennan's longest standing resident.
Last night, members of the community and politicians paid tribute to the village's own "Local Hero".
One resident said: "He was a man that loved Pennan and gave back to the community.
"He was involved in the community council, village hall committee and was a harbour trustee. When you think of Pennan, you think of Baden.
"He did his best to give back wherever he could and he became Pennan's Local Hero."
It is understood Mr Gibson had been preparing his boat May Lily for a trip before he died.
Local councillor Mark Findlater described Mr Gibson as the "heart and soul" of the community.
He said: "He will be sorely missed and I'm honestly quite cut up about it."
Mr Gibson was an SNP supporter and Nationalist Banff and Buchan MP Eilidh Whiteford said she was "saddened" by his death.
She said: "Baden was a well known community stalwart and my thoughts are very much with his family and friends at this time."
In his later years, Mr Gibson stood up for fishermen's rights and campaigned for the UK to leave Europe.
In the run-up to the EU referendum he hung "Vote Leave" posters around his home.
Journalist Serena Kutchinsky, who interviewed him before the poll and has lived in the village since she was a child, said: "Baden has always been in the village – he was in many ways Pennan.
"His boat has always sat very proudly in the harbour and he's been a real constant and entertaining presence.
"We'd always have heated debates about politics.
"And, if I ever had friends in the village, I'd always take them to see Baden to for a cup of tea or dram of whisky in his bothy.
"It was such a unique space and he was such a unique, very Scottish person."
She added that the village would be noticeably different without him.
Miss Kutchinsky said: "He was always a fisherman to us, and very symbolic in being Pennan's last fisherman.
"I will always remember that he said – after his mum sold up and everyone else left – that they would have to carry him out of Pennan in a box feet first.
"I will miss him deeply."
Fraserburgh lifeboat was launched when the alarm was raised around 10.30am yesterday and its coxswain, Victor Sutherland, said he was "shocked" to discover Mr Gibson, who used to work at the Fraserburgh harbour watch tower, had died.
Mr Sutherland said: "I knew him. We would speak to him on the radio if he was on shift."
A police spokeswoman said there were no suspicious circumstances surrounding the death.
She said: "We can confirm that a man has sadly died.
"There appears to be no suspicious circumstances, and a report will be sent to the procurator fiscal."
She added that next of kin had yet to formally identify Mr Gibson.
Mr Gibson's family could not be reached for comment last night.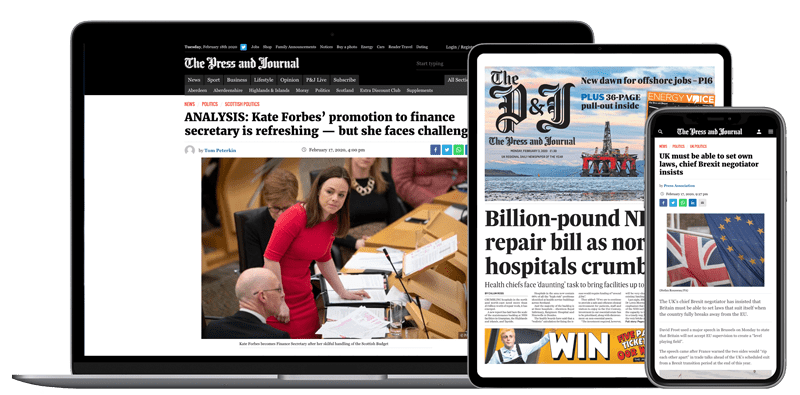 Help support quality local journalism … become a digital subscriber to The Press and Journal
For as little as £5.99 a month you can access all of our content, including Premium articles.
Subscribe