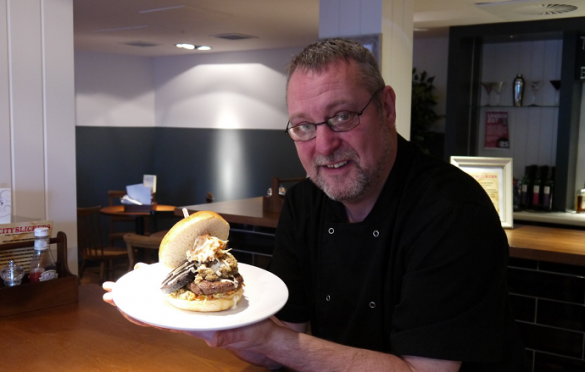 A new Aberdeen restaurant has launched a special delicacy in honour of the Buy North-East campaign.
The City Bar and Diner, which opened just eight weeks ago, has created the North East Burger using ingredients sourced from various businesses across Aberdeen and Aberdeenshire.
The restaurant will run it as a special menu option from now until the end of November.
The tasty tribute comes as the campaign approaches the 500 mark for its Buy North-East Roll of Honour.
All firms need to do is pledge support by putting Buy North-East on their next board meeting agenda, then move at least one contract or piece of business to a local supplier.
Head chef, Dave Anderson, who runs the new eatery on Netherkirkgate, said: "We've launched the burger to highlight the fact that good quality ingredients can be sourced right on your doorstep. We're sure people will want to try The North East Burger.
"We signed up to the Buy North-East campaign without hesitation as we believe in supporting local businesses that provide quality products and services."
The North East Burger is priced at £12 and comes served on a soft brioche bun, baked and provided by The Bread Maker, in Aberdeen's Rosemount area.
It comes with homemade skirlie using oatmeal sourced from Aberdeenshire company, the Oatmeal of Alford, and Aberdeenshire black haggis supplied from G McWilliam (Aberdeen).
And, of course, the burger is 100% scotch beef supplied by Herd's Butcher in Aberdeen.
On the bottom of the burger, there is freshly made carrot and craft beer slaw, created with carrots grown in Laurencekirk and supplied by Aberdeen-based fruit and vegetable wholesaler, Veitch Moir and Punk IPA from Ellon-based BrewDog.
Mr Anderson added: "If the winter version of The North East Burger proves to be a hit, we may revisit [the idea] again with a summer version – again with quality local ingredients."
The campaign is led by Aberdeen and Grampian Chamber of Commerce, Aberdeen City Council and Aberdeenshire Council – plus Aberdeen Journals and Scottish Enterprise.
To apply, visit www.buynortheast.co.uk