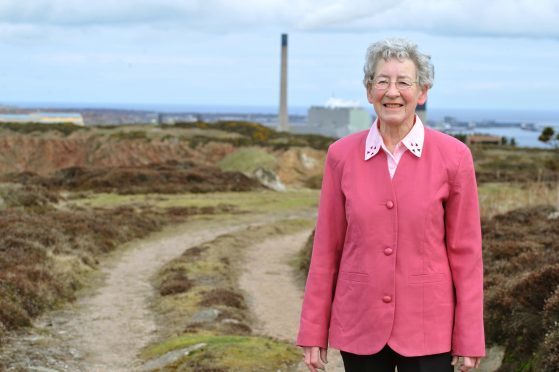 A north-east community group has heralded the success of its chairwoman after she was honoured with a national prize for her work at a tourist beauty spot.
Betty May, who leads the Boddam Community Association, has spearheaded the creation of more than a mile of accessible paths over Stirling hill near the village.
The popular walking spot offers picturesque views of the Bullers of Buchan and along the dramatic Buchan coastline towards Cruden Bay.
Under Mrs May's leadership, the group has raised more than £30,000 to pay for the paths to be laid as well as the installation of electric buggies to give disabled visitors the chance to explore the hillside.
The community stalwart has been handed a certificate of recognition from Scottish charity Paths for All, which promotes healthy, easy-access walking routes across the country.
Last night, community association member Sam Coull welcomed the award for Mrs May.
He said: "None of this could have happened without Betty's help. I brought it to the attention of Paths for All to bring them up to speed with our progress and details of our future plans.
"This has resulted in a well-deserved certificate of recognition for our chairwoman and, through her, the work of our village association."
Sita Trust, the charitable arm of waste management firm Sita, pledged nearly £20,000 towards the path scheme and a donation of more than £10,000 came from the Aberdeenshire Leader fund.
As part of the pathway project, granite steps and a handrail down to the Den Dam were installed along with picnic tables and benches.
Meanwhile, a completely new path has been created to link the Stirling Hill and Sandfordhill pathways, providing a short route to the Den Dam.